A Tired Parent Will Definitely Win This Six Flags 30-Hour 'Coffin Challenge'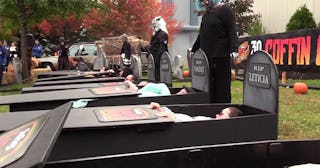 Six Flags Great Adventure/Youtube
Getting to rest for 30 hours in a small space with no kids or technology? Yes, please
Before having children, the thought of spending 30 hours in a coffin would sound downright horrifying. But things change. For those of us whose concept of "me time" consists of a 2-minute bathroom break behind a locked door that is being pounded on by small but mighty hands, the idea of getting to spend an entire day and then some in a claustrophobic box in total silence is on par with a weekend at Club Med. Because Six Flags amusement parks totally get us, they are bringing back the 30-Hour Coffin Challenge just in time for Halloween – and we totally want in.
The challenge involves spending 30 hours in the comfort of a two-by-seven coffin. While specific rules vary by location, they are generally similar. Obviously you will have to go to the bathroom, so there are designated bathroom breaks every three hours. While you are allowed to eat meals in your coffin, no technology is allowed. That includes smart phones or watches, earbuds or headphones. Think of it as one of those technology cleanses that people pay hundreds of dollars a day for.
If you step out of your coffin for any reason, other than during designated breaks, you will automatically be disqualified. According to a press release, you might also have some guests in your coffin, such as "scary slithering reptiles" or "munching on giant cockroaches." And, judging by photos from prior years, you may also have some pretty scary visitors stopping by as well. No, not your kids. People dressed in super frightening costumes ready to spook you out of your tomb.
Couples (which includes siblings, cousins, friends, lovers, etc) as well as individuals are encouraged to apply. Babysitting, unfortunately, is not included. In addition to a $600 prize (which will be split two ways for teams) the winner(s) will receive two 2020 Gold Season Passes and two 2019 Fright Fest Passes for the Haunted Houses.
If you do decide to enter at the Jackson, New Jersey location, there is even an added bonus. The Munsters star Butch Patrick will join this year's festivities as a guest emcee.
To apply, visit the website of your closest Six Flags location. Or don't. If spending 30 hours in a coffin doesn't sound like fun, head over to Disneyland for an all-adults party with booze and candy.