6-Year-Old Boy Among Those Dead In Festival Mass Shooting
by Valerie Williams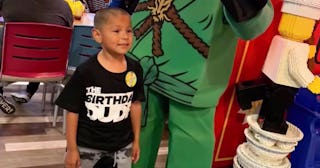 NBC Bay Area/Youtube
The six-year-old was among the three dead and 12 injured during Sunday's shooting
A six-year-old boy spending the day with his mother and grandmother was among those killed in our nation's latest mass shooting that will sadly result in thoughts, prayers, and absolutely zero action. He was attending the Gilroy Garlic Festival in Northern California when a gunman snuck into the festival and opened fire on a crowd of attendees.
According to The New York Times, a total of three people died, including six-year-old Stephen Luciano Romero of San Jose. A total of 12 others were wounded during the shooting.
The gunman, who also died, was identified as Santino William Legan, 19. Gilroy police fatally shot Legan within a minute of him opening fire on the festival attendees. Chief Scot Smithee of the Police Department said in a news conference that law enforcement believes there could be a second shooter. "We believe based on witness statements that there was a second individual involved in some way, we just don't know in what way," he explained.
Romero was attending the festival with his mom and grandmother, who were both among the injured. His mother was reportedly shot in the stomach and his grandmother in the leg. The child's father, Alberto Romero, tells NBC Bay Area about the loss of his little boy. "My son had his whole life to live and he was only 6," he said. "That's all I can say."
To get into the festival, the shooter likely crossed a bordering creek and cut a perimeter fence. Smithee said, "It's sort of a nightmare you hope you never have to live in reality."
Eye-witness accounts are exactly as stomach-turning and heartbreaking as you'd expect. They include that of a seven-year-old boy who told KPIX 5, "I thought I was going to die."
Another survivor describes the horrifying scene, which included people frantically shouting for their kids and trying to escape.
People initially thought the gun shots were part of a musical performance.
Democratic candidates for president took to Twitter to share their thoughts on our nation's latest gun-related tragedy.
Olivia Chiu, 24, a festival attendee from San Francisco, tells The New York Times, "Everyone was in a state of panic and trying to escape out of the festival to a safer area." Chiu says she was among a group of several people who fled the scene for a nearby neighborhood where they knocked on doors in an effort to find safety. City councilman Peter Leroe-Munoz says of the festival, "That is our crown jewel in terms of our cultural identity," he said. "For this kind of tragedy to take place at something so core to our community, it is a tragedy beyond words."
Maribel Romero, Stephen's paternal grandmother, tells ABC7 News that her grandson was "always kind, happy and, you know, playful."
When asked about the shooter, Romero said, "It has to be someone really sick. Because shooting a kid… it's a family event. I just hope there is justice and they catch the last person or the other person and that there's justice. I want justice for my grandson."