The Best Skincare Products That Won't Break The Bank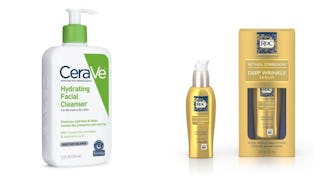 Image via Walmart.com
You don't need to go over budget on skincare essentials
We're right in the middle of winter and the holidays are here — if that's not a lethal combo to wreak havoc on your skin, we don't know what is. Which is why we've compiled the best items to establish a solid skincare routine.
The best part? Not one of these items will break your budget. They're all easily accessible, affordable, and most of all: THEY WORK.
This is a great way to gently take off your makeup without aggravating your skin. It's gentle, it's effective, and it's great for all skin types — even sensitive skin can benefit from micellar water.
This cleanser is a popular classic for a reason. It's great for all skin types, it's gentle, and it really works. It's been a top-rated facial cleanser for decades, and there's a million reasons why.
Who says you need to see a professional to get the benefits of microdermabrasion? The different heads and speeds make it so you can use this for daily cleansing, or twice-weekly deep-cleaning.
CeraVe sounds fancy, doesn't it? It works like a fancy cleanser, too. Which makes the fact that it's affordable AF even better. It has hyaluronic acid to leave your skin smoother and brighter, while gently cleaning away dirt and daily grime.
Winter skincare? Check. Intense moisture and skin-evening for patchy spots? Count us in. We'll take two, please.
This serum is clinically proven to visibly reduce the appearance of fine lines and deep wrinkles in 12 weeks. If we start using it now, we could be well on our way to wrinkle-free skin by Groundhog Day.
Your extra dry skin will thank you for using this treatment. This moisturizer has Aloe Water and Hyaluronic Acid — so you know it's good for keeping your skin bright and moisturized all day.
Another CeraVe product for the win. This healing ointment goes on light and smooth while protecting your skin and giving it the nourishment it needs, especially this time of year.
Masks are all the rage right now, and this pure clay mask has a ton of positive reviews from satisfied customers. It detoxifies and illuminates your skin with regular use, so hop on it!
St. Ives products are a classic in the affordable skincare realm. This cleanser will infuse your skin with the best smells of summertime while exfoliating all the rough, winter skin from your face.
Jade rollers are all the rage right now. You can use this alone or with moisturizer to improve blood circulation to the eye area and smooth out your skin.
There's no better time to focus on a little self-care skincare than right now. The holidays will be winding down next week, and you can focus on a better you just in time for the new year — get A-list celebrity skin without paying an A-list celebrity price.
We are a participant in the Walmart.com Affiliate Program and may earn fees by linking to Walmart.com and affiliated sites.
This article was originally published on