This Skincare Comes With A Side Of Sarcasm, And You're Going To Want It All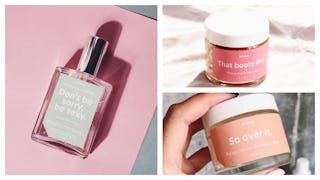 anese.co / Instagram
Do you get a little obsessive about your skincare routine? Are you addicted to buying serums and toners? Do you you moisturize like you're getting paid to do it?
If you are a skincare guru, or hell, even if you're not, then I am about to make your damn day. There is a sassy new website that sells lavish skincare products with cussy, sarcastic slogans, and you are going to want what they are selling.
Anese, a company created by "beauty nerd" Lynnsee van Gordon, provides "gentle, effective skin care and bathing products" and sells everything from toners to serums to scrubs for your ass. Van Gordon has built a cruelty-free company and her website has a clean, crisp edge — and we love her for it — but OMFG it's their labels make me want every last product. Branding on point.
Fuck Bad Vibes is a must have for you, and all your girlfriends. It's the perfect holiday or birthday gift because who doesn't want their bad vibes to fuck off? And it will keep you smelling like the damn queen that you are.
Just looking at this walnut shell scrub makes me want to rub it all over my ass and wear my favorite thong. Your ass is sure to shine. You might want to save this for your partner so you can have an ass-exfoliating shower party. Sounds fun, right? Just be sure to rinse well because you don't want any walnut shells making their way to the ol' coin purse. Not that I know from experience.
A face mask for when you are so over all the shit your beautiful face gets exposed to throughout the day.
I am obsessed with charcoal masks and so are my kids. Charcoal is the boss when it comes to removing dirt and blackheads. And this,Pretty Sure I'm Gorgeous mask (yeah, you fucking are) also hydrates. Slathering some of this on my face and relaxing with a glass of wine after everyone else is asleep is my kind of party — I'll take three please.
Serums are my favorite skincare product and basically the only reason I love my 42-year-old skin. And with a name like Slay, and the fact that it's under $50, this is a must-have.
Also, pretty sure there is almost nothing an illuminating lotion can't fix. You will feel like a magician with this tub of pretty pink magic.
You need this on your body now — a snugly, perfectly broken-in "Fuck Bad Vibes" T-shirt. This will look amazeballs paired with a messy bun and your favorite boyfriend jeans or leggings. Add a spritz of Fuck Bad Vibes perfume, and you are guaranteed to have a kick-ass day.
The company also offers fun "Threesomes," where you choose three of their scents for only $68 — one for you and some left over to share with a few of your besties.
We all love seeing women succeed in business, and when they come up with a brilliant marketing idea, a kick-ass product, and are able keep the price point below a gazillion dollars, it's a win for everyone.
And speaking of winning, I have to go fill up my online cart. So I can scrub my booty and ward off the bad vibes.
This article was originally published on