Meet The 12-Year-Old Skateboarders Who Just Qualified For The 2021 Olympics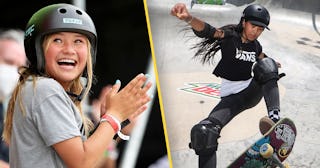 Sean M. Haffey/Getty
Sky Brown and Kokona Hiraki, both 12, will make Olympics history this year by competing during the first-ever skateboarding event
Among the many young athletes around the world gearing up to compete in next month's highly-anticipated summer Olympics in Tokyo are two preteens making Olympic history. Sky Brown and Kokona Hiraki, both 12 years old, just qualified to compete during the first-ever Olympics skateboarding event, which means they'll bring their sky-high talents to Tokyo as the youngest-ever summer Olympians.
Hiraki, a native of Japan, finished in fifth place in the Women's Park Olympic qualifying event at the Dew Tour in Iowa last month. She'll be the youngest Japanese Olympian ever, breaking the record previously held by female swimmer Yukari Takemoto, who was 13 when she competed in the 1968 Mexico Olympics, according to the Japanese Olympic Committee.
Of her history-making accomplishment, the preteen athlete seemingly remained cool and casual about it all, telling The Japan Times, "I was enjoying it just as usual. I wasn't as nervous as usual."
Sky Brown was born in Japan and lives in Great Britain. Brown will be 13 when she hits the pavement in Tokyo, but she'll still be Great Britain's youngest ever Olympian — though her road to the Games has been anything but easy. In May 2020, Brown suffered a fractured skull and multiple broken bones after attempting a high jump from a half-pipe ramp, requiring surgery on her hand and wrist as a result.
Brown was determined to cement her place in Olympics history and inspire fellow young female athletes around the world in the process. As she recently told the Olympic Channel podcast, "I'm really trying to push boundaries for girls skateboarding by going high and doing tricks that many people aren't doing."
Along with skateboarding, surfing, and dancing, Brown published her first book, Sky's the Limit, last year, and she's also a talented musician. Skateboarding legend Tony Hawk even gushed about her skills, telling ESPN last year that Brown has "incredible potential."
"She could definitely be one of the best female skaters ever, if not one of the best, well-rounded skaters ever, regardless of gender," said Hawk. "She has such confidence, such force, even at such a young age. The way she's able to learn new tricks and the way she absorbs direction, it's so rare. She's a unicorn."
These two young athletes are definitely ones to watch at next month's games and beyond, as they're only just beginning what will surely be lasting Olympic legacies.