Why 'Just Say No' Is My New Personal Mantra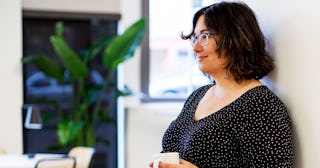 All Go
A few months ago, I had a breakthrough: I need to "just say no."
You may remember this slogan from our youth (if you are as old as me, that is), when the D.A.R.E. campaign took to the schools and streets. My current temptation, though, is not a cool upperclassman with a joint and a promise of elevated social status. No, it's a far bigger problem engulfing my entire family. It's youth activities: the sports, the after-school clubs offering everything from karate to cooking, the peer pressure to start training for the NBA, to start building that college resume at the ripe age of eight.
It's also the perfect parenting: the Pinterest-worthy crafts, Instagram-worthy photos, the pressure to work and parent and coach every team, all while leading the PTA. For all of us, but especially our children, sometimes we need to just say no.
It all started when I ran into an 8 a.m. workout class at 8:03 a.m. They shut the doors at 8:05, and I smiled at another mom from school, also late, and commented how I was just making it that day. That comment stuck with me all that day, all week, for months really. So many days, I feel like I am just barely making it everywhere. School, workouts, meetings, kids' activities, hanging on by a thread.
This is my first year as a stay-at-home mom with three children on the same schedule at the same school from 8-3. It held so much promise. Work out every day? Yes! Volunteer on PTA and every field trip for the next nine years? Yes! Join that writing seminar that's almost a full-time job in itself? Of course!
It has turned into a mishmash of running around to various commitments and struggling to make 3 o'clock pick up with a smile and snacks in the car (totally mandatory).
And then the after-school chaos starts. The racing to activities, the mental taxation of figuring out carpools and logistics to get three busy kids to where they need to be, all while trying to feed them something that wouldn't make the pediatrician gasp and find that elusive soccer shin guard they desperately need but just realized they are missing as the carpool pulls into the driveway. Every day I wonder how I ever worked a true 9-to-5 job and managed the children's schedules. I hold the traditional working moms in awe, but know we are all working hard every day — the cliché is true!
I also know we need to slow down. I see the way it wears on all of us: School assignments missed, practices they complain they are just too tired to make, kindergarten tears at school drop off when I am trying desperately to rush them out of the car to make my next "thing."
By bedtime, I am overwhelmed with exhaustion, barely able to read that bedtime story or offer snuggles to our youngest. I am overwhelmed with frustration, unfairly lashing out at my husband, telling him I feel like a single parent, but I know he is overworked too, paying for the never-ending demands of our lifestyle.
At 11 years old, my oldest son participated in six after-school activities last fall. Some were minimal commitment, like a spelling bee club, but some, like year-round soccer, took up as much as 12 hours a week. If I had sat down to add up his hours in school, plus activities, I am pretty sure he was working the equivalent of an 80-hour week. Every time we tried to discuss what we could cut from the schedule with him, the conversation would lead us down a path where he highlighted all the things he was missing by only sticking with his six activities. "I really want to try piano, so-and-so does basketball year-round and said I could try out for his team, so-and-so tried curling and said it was so fun, can I do it too?"
How can we slow down when so much is expected of us and our children?
When I was in elementary school, I don't remember being rushed after school, changing into whatever clothes were needed that day for an activity. I do remember play dates, walking home with other latch-key friends, putting on pretend plays with my friends that we taped on a camcorder. I don't remember a single softball or lacrosse tournament, but I remember family vacations and weekends spent making the most of the long upstate New York winters on the ski hill. I don't remember any appropriately themed, yet intricate, crafts I may or may not have made for each holiday, but I do remember Christmas dinners with family and friends. I don't remember stressing about getting straight A's in 5th grade for my transcript for middle school applications, but I do remember passing notes to friends with little quizzes on them to find out each other's crushes.
I desperately want my children to have those memories too. Desperately want them to remember family game nights, ski trips, vacations, staying up late with friends at sleepovers, baking family recipes for the holidays, staying in PJs watching cartoons all morning on Saturdays.
And yes, I also want them to remember the 1st place medal from a soccer tournament and the feeling of winning as a team or that first win on the tennis court playing singles. I know some days that means eating dinner in the car or letting my five-year-old play on the iPad while we wait for his brother's practice to end. And that's okay — I just know that someday can't be every day, that my kids need time to be kids, that we all need time to be a family, to be home.
This year, my husband and I are committing to slow down. We realize this means just saying no. We skip practices to spend time as a family, we skip games to take family trips. We even skip school (gasp) if that's what it takes! We choose to say no to certain activities for our children, placing limits and determining how much is too much. And we find that after a few weeks without that curling team or French cooking for kids program, even our 11-year-old could never imagine going back, confessing he never liked it much anyway.
We know that every once in a while, we will find ourselves lured back by those upperclassmen promises wrapped in a stolen six pack of beer. And maybe sometimes we will sneak in a beer or two if it feels right. But we will work to achieve balance in our life and show our children that it's okay to just say no.
This article was originally published on