This Smart Vibrator Actually Tracks Your Orgasms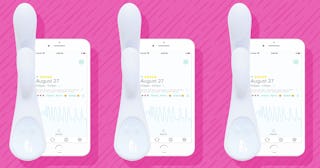 Lioness
If you're anything like me, you're a results-driven person. That brownie made you feel good so you eat another. The talk you had with your our son about not acting like a dickhole to his brother worked because you threatened to take his iPad away. That time you actually went to bed at a decent hour and got enough sleep you felt and looked a million times better.
You like to win at life, and when you do something that makes you feel like you have your shit together, you wish you could get a gold star even if you don't share that information with loved ones.
These days, there's so much to be competitive about. We measure, compare, and contrast every aspect in our lives, from our thighs to our partners to who has a better mountaintop vacation selfie.
Oh, stop acting like you are above all this. You do it too.
So, if you are looking to indulge your type-A personality while having the Big-O, we've got good news for you: You totally fucking can.
There's a smart vibrator that will not only get your rocks off, but it will teach you how to do it better and faster for the next inning (see what I did there?).
Behold. The Lioness is the first Smart Vibrator created by women and is the most "advanced-rabbit style vibrator."
You had me at advanced.
But there's more. It's like a Fitbit for your vagina. By installing the free app, you can see your data on your phone from your arousal and orgasm. This is literally like keeping a sex diary in your phone. It will spit out data and let you get to know your body on a whole new level, including letting you see your orgasm as it's happening. Lioness also measures contractions and helps you keep track of how you use the vibrator each time, which makes this pussy-pleaser perfect for anyone who has trouble reaching orgasm, or whose short-term memory is shot.
Read More: Amazon User's Vibrator Review Goes Viral
You can count your steps throughout the day, keep track of how many calories you burn during spin class, and now you can track your orgasm on your phone. It will even tell you how it could be better next time so you have more to look forward to in your life than beating yourself up because your selfie and calorie-burning game isn't as strong as you feel it should be.
A competition to always reach a more explosive orgasm? Now, that's a game we want to play.
Users of the Lioness are singing its praises, which seems to make it worth the $229 price tag. By the way, you can make payments over four months, interest free, in case you needed a little push.
Here are just a few of the top notch reviews this baby is getting:
"I've been eyeing the Lioness for a while, my boyfriend got me one for Christmas! I've had questions about my pleasure for a while wondering why sometimes I have trouble orgasming or why things sometimes don't feel as good as I'd hope. In the last few days I used Lioness to experiment with a few things and it's a lot of fun to see my orgasms difference each time I use it. I can't wait to see how things look in a month, or even in a year. The vibrator itself is great too. Super soft, easy to use, and comfortable. It's nicer than my high end LELOs which is nice since I like it a lot but it is pricey."– Katie
"Wow, what an intersection. A great rabbit style vibrator that collects your data and helps you understand how your body works? It's a great toy by itself, but the data pushes it over the edge. Also, the team behind the design is wonderful and truly believes in the product they are providing."– Emalia
"This vibrator is awesome not just for the graphs and charts but the actual vibrator itself! You can adjust the strength, and the shape of it is perfect. Would highly recommend, plus you get to learn more about you own body!"– Sandra
"The lioness vibrator is by far the coolest vibrator I've ever owned. The app is super fascinating and helps you understand your body more than you would ever imagine. Plus, it's definitely the most pleasurable vibrator I've come across. Finally, the support staff is super helpful and prompt."– Natalie
Now, instead of talking about how many steps you walked today (snore), or how quickly you burned off the fish tacos you ate for lunch (who fucking cares), you can now discuss how long it took you to climax last night while in the tub.
And if your partner is competitive, how fun would it be to get them in on the action and see how fast they can pleasure your pearl, or if they can get tonight's orgasm to beat the last one? That's what I call a win-win.
Now, let's turn that sucker on and see if we can outdo ourselves, shall we?
This article was originally published on