Here's How To Choose Your Tween's First Phone And Not Go Broke In The Process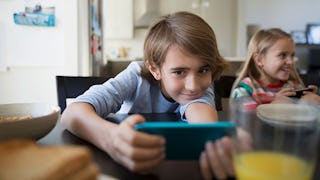 Hero Images / Getty Images
I finally broke down and got my daughter a phone. She's a tween with a tween's level of after school activities so I had to be honest with myself that our lives would be easier if she had her own cell phone. Of course when I broke the news, she wanted a phone that cost over a thousand dollars. After I caught my breath from laughing so hard, I made it clear that was a big NO. ALL THE NOPES.
So how did I choose? Here's the process I went through when picking out my daughter's first cell phone.
Let's Be Flippin' Smart About It
I seriously considered getting my daughter a flip phone. After much "OMG MOM HOW COULD YOU DO THIS TO ME," she successfully presented a case for why a smartphone was a better choice for her because of school projects. Fine, kid, you had me at education.
Price, Price, Baby
My kid doesn't need an expensive plan with fancy options like hotspots. We considered doing prepaid, but when I started researching the best prices for phones for kids, I found Twigby instead. Plans that start at only $9 a MONTH? Shut up and take (only a tiny bit of) my money. Plus, by signing up now, you'll receive 25% off your service for six months.
Data or Wi-Fi or Texting, Oh My
You can choose Wi-Fi only, call and text only, or a full data plan with Twigby. I knew I wanted my kid to be able to make calls, but did she really need data too? I decided that she did, so we got a data plan. But I also want to set boundaries, and that's why I love Twigby's Overage Protection because when it's on, it prevents her from going over her data plan (and depleting my bank account).
It's All About Control, Baby
I trust my kid, but come on. The entire world — good AND bad, but mostly bad — is viewable through a smartphone, so I need ALL THE PARENTAL CONTROLS. This was a huge factor in picking the best phone for her.
Eeny, Meeny, Miny, Moe, Pick a Phone and Go
No huge phone for my kid. She'll get a regular ol' smartphone, with a standard-sized screen, and SHE WILL LIKE IT. Go small or go home, I say. We chose an iPhone SE which Twigby offers for under $150. Just the right size at a great price.
Your Kid Will Drop It, So Plan Accordingly
How many times have you dropped your phone? I've dropped mine literally a million times — including leaving it on my car's roof, down the stairs at least, and once into a pool. Your kids will probably do the same, so invest in a really great phone case even if they don't think it looks cool. WORTH IT.
Respect My Authoritah and No Mean Girl Nonsense
Her phone, my rules. I want her to use her phone KINDLY as well as safely. She needs to accept that for now, at least, I am going to be reviewing her phone usage. Including things she might feel violate her privacy. Sorry not sorry.
My daughter's new phone is going to be here just in time for her birthday, and she is ridiculously excited about it. Me? I'm happy she can call and tell me if practice is running late so I don't have to wait in the cold car forever.
Guess it's a gift for me too.
This post was created in partnership with Twigby. Parents will love their affordable phones, plans, and exceptional nationwide coverage that won't break the bank but still offer all the features and services they need. Visit Twigby to find out more about their great plans — you might even switch the whole family over!
This article was originally published on