Why I Put A Phone On My Tween's Back-To-School List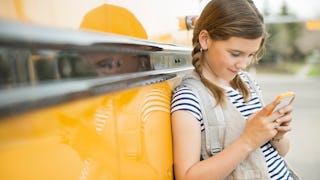 Hero Images / Getty Images
Buying my daughter a cell phone wasn't a decision I made lightly. While she'd love to believe her constant begging was the reason I finally caved, it wasn't. Although my preference was to keep my daughter phone-free for as long as possible, it became unrealistic as she approached middle school. So, much to my tween's delight, I put a cell phone on her back-to-school list.
Why would a tween ever need a phone for school? I know, I know. I questioned it myself. There are many reasons that a cell phone is a necessity and a key back-to-school item, and I was finally unable to deny it.
ABC Is Easy as Technology
We live in a digital world. Teachers are teaching via technology, and kids are learning that way, too. Having a cell phone gives my daughter the fastest access to information that is necessary to succeed in today's school environment. Where we used to go to the library and dig in encyclopedias, kids these days pull out their smartphones and get the most recent, up-to-date information about whatever topic they're interested in. A monitored phone helps my tween stay competitive in this new, modern way of learning.
It's Time to Take Matters Into Your Own Hands, Kid
The change from a little kid to a tween is drastic and sudden. One day I woke up and my baby girl was a young lady with her own friends, social calendar, and to-do list! Having a phone gives her the chance to be responsible and learn to keep her own life organized. The best part is, I didn't have to spend a lot for a phone for my daughter to organize her life digitally. Twigby offers smartphones, including the iPhone and Samsung brands at affordable prices, and they're constantly bringing in new models. Less work for me AND I don't have to go broke? Yes, please.
Perfect for Baller Shot Callers
Two words: Sports Mom. One phrase: I can't keep up. If your kid plays sports, you know that as they get older, the more involved practices and games are. Then there are tournaments, team-bonding activities, and coach's notes from games. Guess what? All of that is done online. My daughter does a much better job with keeping up with all of that than I do, and having her own cell phone helps. Twigby has low-cost plans that start at $9 a MONTH for unlimited texting and 300 minutes, plus data plans as low as $3 month, which is just enough for her to stay on top of her busy sports schedule. If she goes over, though, Twigby's Overage Protection ensures I won't need a professional sports player's salary to cover it because she'll always have unlimited data, just at a slower speed. Plus, Twigby is currently offering 25% off your service for six months. Talk about ballin'!
Call Me, Maybe (Probably)
As much as I'd like to believe that since I survived without a cell phone as a tween, my daughter should also be able to, times have changed. My friends and I passed notes and occasionally chatted on the house phone after school until our parents needed to make a call. I NEVER had communication with my teachers outside of school. It's so different now. Kids communicate with their friends, coaches, and even teachers all the time. It's just how things are done. Having a cell phone gives my daughter her own direct line of communication and gets me out of the middle, so my girl does what kids do these days.
Always Be My Baby
I know my tween thinks she can take care of herself, but she's still my baby! As she becomes more independent, I need to be able to stalk… I mean, keep up with my little girl. With the Twigby app, I can track my daughter's phone usage, turn on/off calling, text, and data. I want my daughter to know that no matter how old she gets, if she needs me, I'm just a phone call away. But for right now, I'm monitoring things too.
School starts back up soon, and I know that having a phone will enhance my daughter's experience. I'm sure there will be plenty of silly pictures with her friends, time spent on games, and weird tween texting. Digital literacy means that she gets to do all of that. I trust her and know that she's ready to dive into the 21st century and take on technology.
And I'll be there to take it on, right along with her.
This post was created in partnership with Twigby. Affordable plans, nationwide coverage, a 30 Day Satisfaction Guarantee, and a selection of phones that are perfect for families, Twigby is a great choice for parents looking to add tech to their kid's back-to-school list. Learn more about the Wi-Fi only, call and text, or full data plans that Twigby offers and use promo code MOM to receive a $10 credit when you sign up.
This article was originally published on