One Mom's Mission To #smashSMARD To Cure Son's Rare Disease
by Elaine Roth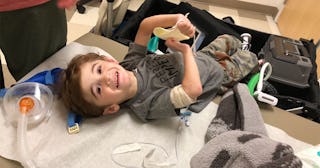 Courtesy of Brittany Stineman
We all have that story—that one where we knew something in our heart before it was possible to know. Whether it was about our child's health or their safety or about the moment before their world would change forever. We all have that story where our intuition—that impossible to define mother's intuition—helped us save or protect our children.
Brittany Stineman had that mother's intuition. A few months after her youngest son, Nash, was born at 36 weeks, her mother's intuition began to spark, letting her know something was wrong. Nash was born smaller than his older brother, at just four pounds and 12 ounces. He was born and "started thriving, almost too quickly," Brittany said. He started to roll over at just two weeks old. Right away she had a gut feeling that something was wrong—he was too strong, too hyper for a baby that should, by all accounts, still be swaddled in the womb. Brittany and her husband, Bobby, began working with a physical therapist right away, and things did begin to resolve.
But then other issues started. At around three months old, Nash started having episodes wherein he was hungry, but was having difficulty eating. Brittany tried to quiet that spark of mother's intuition telling her something was wrong. Then he began to experience respiratory issues while eating; his growth stalled. And Brittany knew.
She knew, even when her pediatrician told her nothing was wrong. She knew even after hospitalizations for failure to thrive and being told that Nash was just "adjusting to life." After surgeries and procedures to fix problems, including a paralyzed diaphragm that still didn't treat Nash's failure to grow. After specialists had seen Nash and told her that he was fine. She knew even though every test came back normal and the prenatal genetic screening came back normal, and after the doctors had diagnosed her with postpartum depression.
She knew, even when the hospital called child services on her, which is something Brittany says happens too often to families of children with very rare diseases. "In following my mother's intuition, I began to ask very challenging and relevant questions related to Nash's health that no one (including the hospital) could answer. While desperately searching for answers, you can be viewed as a threat. Consequently, far too many families like mine end up against Child Protective Services, which was one of the darkest points in my journey."
But Brittany and Bobby persisted. Eventually, they got their answer. When Nash was 11 months old, he was diagnosed with Spinal Muscular Atrophy with Respiratory Distress (also known as SMARD1). "There is little known about this ultra-rare and often fatal disease." It's a neurogenerative disease that causes paralysis and respiratory failure. There are no treatments and no cures.
It's even more rare than another genetic disorder with a similar sounding name, SMA b, which—at the time of Nash's diagnosis—was heading into a phase two clinical trial and has three treatments available.
The moment they got their answer was devastating. After so long struggling to get an answer, they knew whatever the doctors found would be bad, but nothing could have prepared them for how bad, for the doctors to go from telling them nothing was wrong, to telling them there were no options and all they could do was enjoy the time they had left.
For Brittany, that wasn't enough. Soon after that diagnosis, she and her husband decided they would not put a time limit on their son's life. She decided if there was no treatment for him then "we're going to have to develop that treatment for him."
And so—a mission, a nonprofit called Smash SMARD, was born. Smash SMARD's is a nonprofit committed to fund Gene Therapy Research for IGHMBP2-related disorders. Its is to create "a world where individuals with rare diseases and their families are no longer told there are no medical treatments available. Our organization wants to be there to support these orphan causes, to give hope to families, and to be a leader in driving research."
Through grit and determination, through a steadfast resolve to not take "no" for an answer, Brittany and Bobby have been able to raise more than two million dollars to bring a gene therapy to clinical trial for SMARD at Abigail Wexner Research Institute at Nationwide Children's Hospital.
"As a mom when you know that something's wrong, when you know, don't stop pushing for answers because the maternal instinct is an incredible thing. And once you get answers, if you're being told there's no option; there's always an option. No option is not an option. You just have to find it and maybe even create it." Through funding and awareness, the Stinemans have created that option, and they aren't done yet. They need to raise another 250 thousand dollars to meet their goal and take those first crucial steps to finding a cure.
There's nothing typical about a day in the Stinemans' life. Nash is four years old now. He can't walk or talk the way most kids can. He has to use a ventilator to sleep. He requires weekly blood draws and IV nutrition, and every step of every part of the process requires the utmost care and attention for risk of potential infection or contamination. But Nash is more than his diagnosis. He loves to watch anything related to vehicles and absolutely adores his older brother, Blake. In all ways he is a typical four-year-old, only with a failing body, says Brittany, "and every day with him is a blessing for us."
For the Stineman family, the clinical trial is the thread of hope they've been fighting for. It's the thread of hope born of a mother's love, a mother's instinct, and a family's commitment to protect other families from having to fight just to get someone to listen.
Click here to contribute to Smash SMARD's efforts
This article was originally published on