Smiling 5-Day-Old Gives Hope To Preemie Parents Everywhere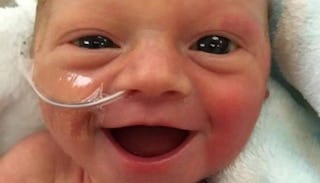 Image via Facebook
A photo of a premature baby smiling wide has gone viral
Almost two years after the birth of her daughter, a thankful mom shared a picture of the 5-day-old baby, born during the 34th week of pregnancy, with a big smile on her face, and the internet fell in love.
Freya was born in Minnesota in November of 2014, due to her mother's complications with preclampsia, and spent the next month in the neonatal intensive care unit. Today, at nearly two years old, the little girl is now thriving.
Lauren Vinje, Freya's mother, posted the photo to the Facebook page Love What Matters and it racked up the views in short order. As of right now, the image has 313,000 likes and over 49,000 shares.
Lauren also shared the photo to the blog, Birth Without Fear, where she explained the circumstances that led to Freya's premature birth.
Signs of preeclampsia, a complication during pregnancy that results in high blood pressure and potential organ damage, began appearing around 28 weeks, and a month and a half later she was admitted to the hospital. Freya emerged, via emergency c-section, on Thanksgiving Day 2014.
In an interview with ABC News, Lauren raved about her daughter, who is now more than fully recovered and still smiling that infectious smile. "Honestly, she is the best thing that has happened to us. We go to the store and she's the friendliest little girl and she says hi to everybody. She's so fun. She's so happy. That picture at 5 days old, you can see her little personality and you look at her now, and she hasn't changed. She's still the happy little girl in that photo."
Pregnancy is stressful enough without any complications, and there's nothing more terrifying than your baby needing to spend the first few weeks of her life in the NICU. But Freya's enormous smile, captured in that viral photo, helped her mom get through those harrowing, heartbreaking weeks.
The picture struck a chord, and parents with their own premature babies began sharing their stories, many of them about how well their kids are doing after being born under such trying circumstances. Freya's smile has become a beacon of hope, and a reminder, as Lauren wrote, of how precious, and fragile, life can be.
"Our first daughter at five days old. 3 lbs. 14 oz., she was happy to be alive!" Vinje wrote in the post. "This picture was one I looked at often to get me through the ups and downs of our NICU days. Life is so precious."
And now that the image has gone viral, Freya's mom isn't the only person benefiting from her smile.
[free_ebook]
This article was originally published on