Snack Boxes Are The Perfect Gift, And You Should Buy Them For Everyone You Know
by Christine Burke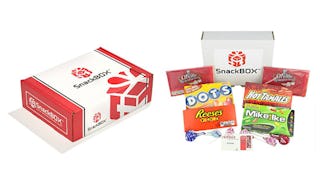 Amazon
When I was in college, care packages were a big deal. On the days I got a notice in my campus mailbox that I had a package waiting, I ran to the mailroom. My roommates got excited, too, when they saw me lugging my box up to our shared townhouse because they knew my mom sent us the good stuff. And let's face it: Those snacks came in handy on the nights we staggered in from the bars at 2 a.m. (sorry, Mom, but it's the truth).
Because I went to college prior to the internet being a thing (yes, I'm old, shut up), my mom would have to go through the hassle of buying the treats, packing them up in a sturdy box, and lugging the heavy box to the post office. And I'm sure it was a small fortune to get that box clear across the country. She had to wait days for the box to arrive on campus, be processed by the mail guy who was always stoned, and make it to my dorm. Care packages were a whole lot of work back then.
Well, leave it to Amazon to make care packages as easy as one, two, click.
Our kids are so damn lucky.
These days, you can buy a ready-made care package filled with yummy treats that can be sent anywhere in the world. And it gets even better: You can buy packages that come with a Redbox coupon too. You are sending a movie night in a box to someone who really needs a night to relax or veg out. Plus, they get to pick their own movie, so you aren't spent guessing at what they've seen already.
When you send a Snack Boxes, you are sending love, you guys. Crunchy, salty, delicious, pre-packaged love.
These boxes are perfect for college students, military officers, and for long-distance loved ones on their birthdays. What kid wouldn't love getting a box filled with candy and a fun note from their (now) favorite person? And because there are healthier snack options too, they are a fun way to send treats to a college student looking to save up their calories for booze. I mean, make wise nutritional choices.
I don't know about you, but I'd kiss the mail carrier if she delivered one of these babies to my mailbox. Hey Mom, it's been a while since you've sent me a care package. Just sayin'…
This post contains affiliate links, which means we receive a small portion of the sale if you make a purchase using these links.
This article was originally published on