'Saturday Night Live' Skit Nails The Hell That Is Dressing Kids During The Winter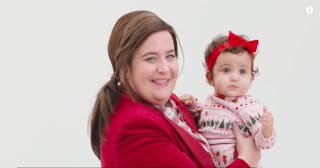 SNL/YouTube
'Saturday Night Live' created a faux Macy's ad that sums up the itchy, hot, ill-fitting headache that is kid's winterwear
Saturday Night Live has nailed some pretty key parenting woes in the past. From the actual nightmare that is picking apples with your kids to their Best Christmas Ever skit that 100 percent of parents can relate to, the show manages to make us laugh at ourselves on the regular. This Saturday's show was no exception, highlighting the sheer hell that is dressing your kid during the winter.
The skit starts out innocently enough as a Macy's ad showing some pretty sweet deals for men's blazers and women's cashmere sweaters. Then they get to the kid's clothing and that's when shit gets real. "For your little ones, Macy's has the festive fashion that'll have them saying…..'It's too hooooooooot,'" as one little girl pulls at her turtleneck. Here we go.
RELATED: The Coziest Cashmere For Cool Guys Everywhere — Because Dads Deserve Nice Things, Too
Another little boy screams, "it itches," as a baby just sits and cries, his Christmas sweater vest pulled halfway off. "We're offering 25% off boy's merino wool sweaters that won't fit over his head," the ad continues as a tired dad wrestles to get one over his son's head, whispering through gritted teeth, "If you just stop squirming." We've all been there.
The faux Macy's in the ad also offers 40 percent off boy's corduroy pants that will "pinch his little nuts," which is the most accurate description of corduroy pants I've ever heard in my life. Don't worry, they didn't forget about the girls. They are practically giving away "hard, shiny shoes that hurt" and holiday rompers that "she'll never get off in time."
They're also selling kid's coats so big and thick "they won't fit into their car seat anymore." We see you.
There's nothing worse than trying to get your kid to dress up for the holidays — and who can really blame them? The clothes are tight, wool, and even though it's cold outside, the car and house manages to heat up 900 degrees leaving you both sweating bullets before you've even left the house.
Let's not forget about the snow boats. Thankfully, the department store is offering 10 percent off "because they are so hard to get on they'll strain your marriage." Cue the passive-aggressive fighting in front of the children that's impossible to avoid. It's like they have a camera in our homes.
Throw in some baby onesies with All Of The Buttons and you've got yourself the perfect little holiday. Macy's — "the clothes they'll hate create the memories you'll love." Saturday Night Live nails it again.
This article was originally published on