Hilarious SNL Skit Nails The REAL Reason Women Wear Leggings
by Julie Scagell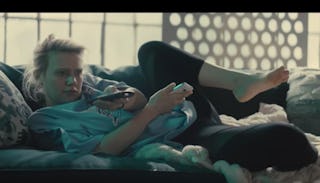 Image via YouTube/SNL
We'll take the 'Pro-Chiller' legging in every color, please
Saturday Night Live is known for their hilarious and painfully accurate parodies, but none spoke to women's hearts more than their recent "ad" for Nike "Pro-Chiller Leggings." Because leggings are for working out — and they're also for shoving hot Pizza Rolls into our faces while lounging on the sofa.
The skit features two of SNL's funniest women, Kate McKinnon and Aidy Bryant, the "non-athletes" in the ad. It starts off with alums Heidi Gardner and Melissa Villaseñor saying, "I'm a runner, I run," and "I'm a fighter, I fight." Cue Bryant chilling on her sofa, legs askew, saying, "And I just sit the hell down and chill in these soft pants."
Amen, sister.
I mean, who doesn't wear athletic pants on the daily to shuttle their kids to school, run errands, and attend formal dinner parties? We need more multi-function options in our lives and obviously Nike finally stepped up to the plate.
The skit has all the makings of an authentic Nike ad — you know — gorgeous, athletic women with 12-packs completing an Ironman while giving birth to twins, all commentated on by a British narrator. Except these are leggings we can get behind because they fit most of our lifestyles, which is to say chillaxing with some Netflix while hiding from our kids.
The "Pro-Chiller Legging," are designed for "190 degrees of hot lap — because I bring the heat," Bryant says. And who could use more moisture wicking on their lady bits? Everyone, that's who.
McKinnon's character chimes in to add the obvious: "Women can do anything they want—and I want to do nothing. My Fitbit says I'm dead." Because somedays it doesn't really make sense to wear a device tracking our (total lack of) physical activity.
The "Pro-Chiller" leggings allow for maximum relaxation positioning on the "couch to the bed, to the other side of couch," because that's how most of us like to roll. And if we're relaxing, we don't need buttons and zippers and publicly acceptable pants cramping our style.
Byrant also demonstrates how easy it is to get into optimal positioning should we need to work (or online shop) at home. "Leggings, blanket, laptop — couch panini," she demonstrates.
The beauty of these Pro-Chiller leggings is, unlike most dry clean-only trousers, they can be used as "pants, pajamas, and a napkin." It's a win-win-win for everyone.
And they're practical as well, because as the ad points out, you "can't put [your] naked butt on the couch." Everyone has to have boundaries.
This article was originally published on