Social Distancing Didn't Ruin My Son's Birthday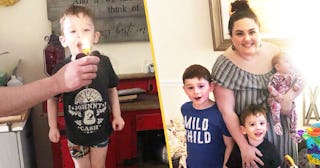 Katie Cloyd/Instagram
As of two days ago, my son is four years old. Since we are in voluntary isolation to do our part to curb the spread of COVID-19, we celebrated his birthday at home, just the five of us.
We didn't get to have a party. Not a single friend was allowed to come over. The beautiful professional Mickey Mouse cake I commissioned sits in a freezer far away. There were no pony rides, no petting zoo, no costumed characters, no face painter, and no inflatable bounce house.
I didn't even have balloons or streamers on hand.
The zoo is closed. We couldn't visit a park or set up a playdate at a trampoline park.
This is a birthday in the time of quarantine.
Walker woke up bright and early that morning, before the other kids. I scooped him up into a big hug to explain that it was his birthday.
"Good morning! Happy Birthday, baby! You're four years old! You can have anything you want for breakfast today. Do you want cereal? Pancakes? Bacon?"
He replied with an impish grin, "How 'bout cake?"
We compromised and made blueberry muffins from a cheap, just-add-water mix I happened to have in the cupboard. After breakfast, he played with a set of colorful measuring spoons, lining them up by size, sorting them into groups, and playing kitchen. It was pouring rain, so my boy snuggled with his big brother under a big blanket and watched his favorite movie for the millionth time.
While he was occupied, I dug through the kitchen hoping to find enough ingredients to make him the simplest of cakes. I've never been so excited to find a dusty box of Betty Crocker in the back of the pantry. Cream cheese and powdered sugar mixed with an obscene amount of red food coloring served as frosting. I scoured the kitchen for some cupcake papers, and by some miracle, I found a handful of yellow ones. A long-opened package of chocolate sandwich cookies provided the stale "ears."
Makeshift Mickeys.
They were ugly. The frosting was slightly bitter from the red dye, and it ended up more pink than red. It didn't matter. When Walker noticed what I was doing, he squealed, "It's Mickey cupcakes!" He didn't even care that I had to put them on a Christmas cake plate because I couldn't reach the plain one on the top shelf.
We spent the afternoon just playing in the living room, letting Walker choose the games, movies and snacks, then I put some chicken nuggets in the oven for dinner at Walker's request.
The only birthday candle I had on hand was a sparkly yellow five leftover from my thirty-fifth birthday in November. Walker was turning four.
Oh, well.
For the first time ever, he blew his candle out without any help. When the flame went out on that wax five, we all clapped and cheered for my four-year-old boy like he had achieved cold fusion. My husband gave him the biggest high five. Walker was so, so proud.
A few weeks ago, I found his gift for a steal in the after-Christmas clearance section at Target. On a regular year, I would have questioned if it was enough. This year it felt perfect and miraculous that I had any gift at all. I have never been so grateful for an impulse buy.
I didn't have paper to wrap it, but I still got to see his face light up when my husband carried that big box in from the garage. They spent a few minutes putting together his toy science lab as a team. Walker beamed as he helped his daddy fit all the pieces. For the rest of the night, we watched him happily bustle around his lab, a tiny pants-less scientist wearing safety goggles and a giant grin.
This quarantine birthday will go down in history as one of our best family memories.
It's not that we don't fully understand how serious this pandemic is. We do.
It's just that, even under the most desperate circumstances, we managed to find joy. A couple years ago, I had a miscarriage. The night we found out, we took the boys to a drive-through Christmas lights display. Seeing the wonder in their eyes and hearing them laugh and play injected hope and happiness into that heartbreaking day.
This birthday felt like those Christmas lights. A little sparkle in an otherwise terrifying time.
We understand the gravity of what's happening right now, and we feel so helpless. It is counterintuitive to stay home and do nothing when the world is in crisis, but for most of us, that is the best thing we can do. Non-essential workers help more by staying in than by rushing out to assist.
That's why I didn't "run to the store real quick" for wrapping paper, better frosting, or some balloons. It's why we didn't invite the grandparents, or have even a small get-together with our closest friends. We understand that it's vital to stay home. We are doing our part.
But for me, it's also essential to make sure my kids don't lose the joy and magic of childhood during this time. I want them to be innocent while they still can. Of course, I am making them comply with the measures that will keep them safe, but I am not burdening them with the details.
I was worried I wouldn't be able to make a special occasion feel special in a time like this, but Walker never once realized that I threw his birthday together out of odds and ends.
All I could see was ugly cupcakes, cheap chicken nuggets and an unwrapped clearance present. I was more concerned with everything I couldn't give him from inside our four walls.
All he saw was the special. From the moment his eyes opened, until he fell asleep in the crook of his Daddy's arm watching Nanny McPhee, the day was all about him. Cake. Presents. People he loves. As a matter of fact, since he has autism, skipping the party was probably right up his alley.
It was his best birthday ever.
In this scary time, I am desperately searching for a silver lining. The one I've found so far is how much easier it is to see the beauty in simplicity when all the trappings of our normal lives are stripped away.
As I was going through the photos of Walker's day, I realized that most of them feature the sign on my dining room wall pretty prominently. I'm so used to seeing it that I barely notice it anymore, but it stood out as so poignant and beautiful to me that day.
My husband made me the sign when we bought our first house. It's inscribed with lyrics from a country song I loved when I was a kid.
"Love grows best in little houses
With fewer walls to separate
Where you eat and sleep so close together
You can't help but communicate
Oh, and if we had more room between us, think of all we'd miss
Love grows best in houses just like this"
It occurred to me that we weren't stuck at home on this birthday. We were lucky to be here, healthy, fed and together. So many people all over the world cannot say the same.
Even during pandemics, quarantines and uncertainty, we should acknowledge our privilege and choose to be grateful for our safe families and our little houses.
Doug Stone was right: No matter what kind of storm rages outside, love grows best in houses just like this.
This article was originally published on