Some Hatchimals Didn't Hatch On Christmas And Parents Are Out For Blood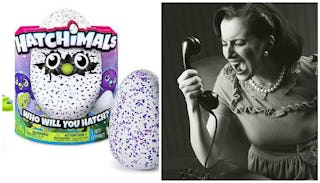 Image via Amazon/Shutterstock
Hatchimals got 99 problems and hatching is one
The toy of the year for 2016 is the Hatchimal. "The what-imal," those of us with older children ask? The Hatchimal: a robot animal that arrives in an egg, hatches after your child cares for it, and then "evolves" as your child plays with it. "Yeah ok fine," we say.
These things sold like hotcakes this holiday season at a cost of about $50 to $60 each. Some parents who went to Ebay after stores were sold out ended up paying twice that. But now there is sadness in Hatchimal Town, as angry parents have flooded the toy maker's Facebook page and phone lines with complaints that their Hatchimals were D.O.A.
Spinmaster, the unfortunately-named company responsible for Hatchimals, has received thousands of complaints from parents whose children were devastated on Christmas after their Hatchimals either didn't hatch out of their shells (which, given the name, seems to be a major selling point for the toy) or hatched but then quickly stopped working.
Good God. Six hours of friction from rubbing the bottom and murder? The comments section of the Hatchimals' Facebook page is reading more like an episode of Law and Order: SVU than a page about a chirping toy.
Some of the comments are related to the noises their Hatchimal makes and they are, quite simply, the most wonderful things we have ever read. I mean, we're sorry for the inconvenience and/or these children's new and neverending nightmares, but still.
Well, that last Hatchimal is clearly drunk.
And speaking of foreign languages:
Ok, shhh…wait, we can totally handle this.
"Thank you for contacting us about your burtle being a pengala, Carla. What we'd like to do is have you put your pengala in a flootzammer and send it to a meekelschmik. They will then give it a borstenhoot and return it to you fintalla. Thank you! Quertinfurt!"
Other complaints are about the Hatchimal's bright eyes, which glow different colors depending on whether they are sick, scared, sleepy, or angry, for example.
So those bright red glowing eyes of murderous rage that awaken your child in the middle of the night? Totally normal. All you have to do is rub the Hatchimal's bottom. That makes it happy again in a not at all creepy way.
Some parents are understandably frustrated and asking for a refund. Others, however, have gone swimming way off in the deep end of rage and, after waiting on hold for customer service for two to three hours, are contacting TV stations and threatening class action lawsuits. We love it all and would like to hear more and see videos, please.
This article was originally published on