Some Women and Children Are Now Stuck Inside With Their Abusers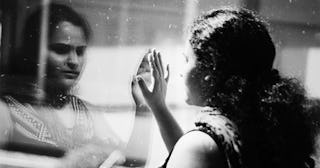 Ashish Kumar/EyeEm/Getty
I have been as vocal as any parent about the challenges of suddenly being asked to work from home while also educating my children. We started our first day of homeschooling yesterday, and let me just say, it was a mess trying to get all three kids to focus while also desperately trying to keep up with work obligations so I don't get fired. And frankly, I'm one of the lucky ones. My job can be performed remotely.
However, never once in all of this did anyone in my family fear for their physical safety. But the sad fact is, many women and children are now confined in their homes with their abuser. This has to be one of the worst scenarios imaginable, particularly when one considers how difficult it can be to leave an abusive relationship during normal circumstances.
It's not just a US problem; it's a worldwide problem. According to The New York Times, China recorded an uptick in domestic violence shortly after the pandemic started. So did the United Kingdom. Katie Ray-Jones, the chief executive officer of the National Domestic Violence Hotline, reported to The Times that there had actually been fewer calls in recent days, down from between 1,800 and 2,000 a day to approximately 1,700. Sadly, this is not because domestic violence is happening less often, but because it's harder for victims to report it.
In contrast, according to KUTV, the Salt Lake City Police Department has reported a 33% increase in calls to report domestic violence since Utah residents were advised to stay home to stop the spread of COVID-19.
The sad reality is, we are all spending a lot of time in our homes right now, and for some people (kids included), home is the most dangerous place to be. Many people are losing their jobs, while others, like myself, are struggling to learn how to navigate their work lives online while also caring for children full time. Yes, this is all for the good of public health, but for those in an abusive relationship, it's putting tension on an already bad situation while also forcing children to witness, or sometimes be the target of, violence. Where work and school once acted as a safe-haven, that has been stripped away for many.
I don't know if anything I write here will change abusive actions. But what I can do is provide resources and hope, because despite much of the nation being shut down, domestic abuse resources are still available for those who need them.
For example, shelters in New York City are deemed "essential services" and are still operating. However, many domestic violence service providers are not seeing as many clients in person because of the virus, and are pivoting their services to hotlines, phone consultations, and virtual sessions. The Utah Domestic Violence Coalition posted on Twitter that they are open, but moving digital, providing services 24/7.
The biggest challenge is that it can be difficult to reach out for help when you are quarantined in your home 24/7 with your abuser. Victims ordinarily wait to be by themselves before they seek help. They wait for their abuser to go to work. They secretly reach out to friends. They look for openings when their kids are at school. Unfortunately, many of those options are no longer available to provide the top cover someone needs to find a way out of an abusive relationship.
There is advice on what to do in these situations, but I will admit, it is difficult to hear. Going back to Ms. Ray-Jones interview with The Times, she advises that when an argument breaks out, it's important to identify the safest place in the house, away from objects that may be weaponized, like the kitchen and bathroom. Prepare for a situation where an abuser might hide essential supplies, like soap.
Some abusers are known to search a victim's phone or computer to make sure they are not reaching out for help. In situations like that, Ruth Glenn, the chief executive officer and president of the National Coalition Against Domestic Violence, advises victims turn to a trusted friend or family member, if available, who can make a call to a hotline on their behalf should they not be able to do so themselves. And in an emergency, Ms. Friedman recommends calling 911.
Right now, staying at home will help stop the spread of COVID-19. It is, however, creating a very difficult situation for victims of domestic violence. If you know someone who is in an abusive relationship, there's never been a better time to reach out, touch base, and offer resources. And if you are in an abusive relationship, realize that you are not alone, and that there are still resources available to you. Seek help. Find safety. Lean on friends and family who can provide you an exit or make calls on your behalf. Now, more than ever, these resources are your lifeline. You are loved.
This article was originally published on