All Of The Cutest Pics From Sophie Turner And Joe Jonas' Wedding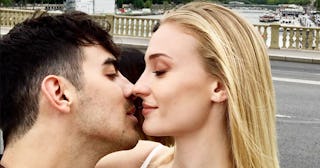 Sophie Turner/Instagram
Sophie Turner and Joe Jonas had the sweetest wedding celebration in France following their Vegas vows
Sophie Turner and Joe Jonas might have officially tied the knot in Las Vegas two months ago after the Billboard Music Awards, but now they've really done it up with a lavish celebration in southern France this past weekend. The Game of Thrones star and the middle Jonas Brother invited friends and family from all over to the Château de Tourreau for what looked like a few very fun and elegant parties.
Look. At. Them.
It all kicked off with a pre-wedding party at the Hotel Crillon le Brave, where the couple looked, well, good enough to get married then and there.
That was followed by another pre-nuptial dinner rehearsal event at Hotel de la Mirande in Avignon in which everyone was asked to dress in white (Turner and Jonas, though, showed up in bright red – who doesn't love a red wedding?).
Everyone close to the couple was there. That includes Nick Jonas and Kevin Jonas, as well as their wives, Priyanka Chopra and Danielle Jonas. Turner's best friend and GoT costar, Maisie Williams was also there with her long-time boyfriend.
Williams served as one of Turner's bridesmaids, while Jonas had — let us count — about 8,000 groomsmen.
Of course, the real star and best-dressed being at the wedding, besides the happy couple, maybe, was the couple's dog, Porky the Husky, who sported a tux. He is, according to our sources, The Goodest Boy.
We don't have official pictures or details from the wedding as of yet, and who knows if the couple will share them, but a few sources did tell E! News a few details that fill out how the day went.
Before the ceremony, Turner got ready with her bridesmaids, including Williams, and enjoyed some brunch. At the same time, Joe hung out with his guy friends:
"Sophie was drinking champagne with her girlfriends and brunch was also delivered. Joe had a few shots with his groomsmen to ease the nerves."
The ceremony itself was decorated with white candles and flowers.
"Sophie wore a long lace dress with sleeves. She had her hair down with a veil and had light makeup," they said. "Joe and Sophie both teared up while reading their vows. Everyone stood and cheered and they had huge smiles as they left as a couple. It was an emotional ceremony."
Only a glimpse of her dress was caught, by TMZ, which looked floor-length, had puffed sleeves, and included a long veil. She carried a large bouquet of flowing white flowers.
Jonas wore all black.
Did we mention that — even though we usually kinda roll our eyes at these things — their wedding had the cutest hashtag ever. #TurnerIntoAJonas.
And it's not like their first wedding sounded so bad in the first place! Their best friends and family were there, Country duo Dan + Shay sang to them, and they had Sin City's Chapel L'Amour all to themselves. Still – the France festivities also seemed totally amazing.
Here are a few more pictures of guests including the insanely stunning Priyanka Chopra in a pink saree.
The couple has been together for three years — they first were spotted together at the end of 2016 at the MTV ETAs and then again at the Met Gala a few months later, though they posed separately for pictures. Not long after, they adopted Porky the husky, which is basically the biggest commitment you can make to another human being. It's no surprise that once they found they could co-parent a puppy, it was time to make things official — twice.