Sophie Turner Shares Never-Before-Seen Pics From Her Pregnancy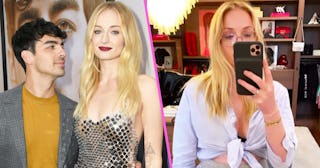 Kevin Winter/Getty and Sophie Turner/Instagram
Sophie Turner confirms: She looked just as adorable with a baby bump as we imagined
Of all the high-profile celebrity babies born last year, one of the best-kept-secrets has been Sophie Turner and Joe Jonas's daughter, Willa, who was born in July after a pregnancy that was kept almost entirely out of the public eye. The couple have locked down their private lives since starting a family, and we've only seen a couple of photos of the entire time Turner was pregnant — until now.
One of the most popular trends on Instagram at the end of the year was to share a "Year in Review" story, highlighting your best photos from each month of 2020. Turner hopped on the bandwagon and shared a Year in Review of her own, because needless to say, she had a lot of highlights to share from 2020, the year she became a mom for the first time.
In a number of the photos, you can see her baby bump, which has been featured in only a small handful of throwback pics she's shared before. Her photo from January showed her cradling the beginnings of her bump, before the public knew about her pregancy.
Her May photo also featured her now-much-larger baby bump, just a few months before she gave birth.
For July, when Willa was born, Turner chose a photo that showed some of the realities of being a new mom: her sweater covered in spit up. Leave it to the Game of Thrones star to make baby puke look like a fashion accessory.
Meanwhile, her husband Joe Jonas also shared a Year in Review of his own. It was noticeably less baby-bumpy, but he did share one sweet, never-before-seen throwback to Turner's pregnancy: a screenshot of her Facetiming him from an ultrasound appointment. From the adoring look on his face, you can see how excited he was to become a dad.
While both Turner and Jonas have been tight-lipped about their new life as a family of three, they have dropped some subtle hints on social media that die-hard fans think reveal some of their secrets about the last year of their lives. In November, Turner wore a necklace in a story that viewers noticed was engraved with a date: July 20, 2020. It's very possible that's the day Willa was born.
And before they publicly announced their daughter's name, Turner shared a picture of a new addition to her "J" tattoo on her wrist, a tribute to Jonas: a "W" below it, which we can only assume stands for Willa.
Here's hoping 2021 comes with many more updates, because we're dying to see what a perfect baby these two must have.