College Sororities And Fraternities Need To Change ASAP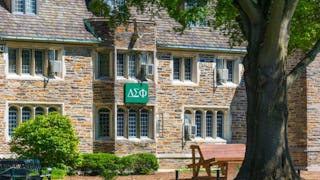 mrtom-uk / Getty Images
One of the nation's largest state universities, boasting one of the largest Greek systems on its campus, has made the unprecedented move to disallow freshman from pledging into a fraternity or sorority. The University of Southern California Student Affairs Division recently announced that all incoming freshman would be prohibited from joining a Panhellenic or Interfraternity Council organization until spring of their freshman year.
By instigating strict GPA requirements for pledging, USC has removed the option for freshman to join in the Fall since they would not have an official USC GPA yet. In their new policy, USC states, "This is the toughest year of the transition to college as students experience the most social and academic challenges. A number of our peer institutions have implemented policies that support first-year students by allowing them time to acclimate to the university's academic and social climate before participating in Greek-letter organizations."
USC joins a number of other large universities restricting greek involvement and membership to second-semester freshman, upperclassmen, or transfer students. Campus officials across the country — dealing with an onslaught of a heavily stressed-out, anxious, and often depressed student body — hope that by minimizing additional social, emotional, and academic pressures that Greek membership can bring, students can transition more easily into college life. Only once that initial transition period has been managed will the school offer an opportunity for more involvement in a Greek organization.
Why this newfound desire to shelter our youngest college students from Greek life until they are more ready for its demands and pressures? Well, possibly because the demands, pressures, and membership requirements that come with pledging fraternities and rushing sororities have gone completely off the rails. To say the least.
Take for example sorority rush at the University of Alabama, where it's commonplace now for young women to employ sorority recruitment consultants in their efforts to receive the bid of their dreams. Nearly 2,300 young women will go through Alabama's brutally competitive sorority rush, all banking their entire college livelihood on what Greek letters they end up wearing.
And before you say this is only something new brought on by the sheer competitiveness of sororities and limited membership spaces, it most certainly isn't. I recall all too fondly visiting my sorority at the University of Alabama during their rush week while I was still an active collegiate member. Getting a startling behind-the-scenes peek at the sheer cutthroat feeling of it all, I wondered how I ever received a bid. Unfortunately, those cutthroat trends have not evolved and remain the same — if not worse — across not only the South, but the entire country.
But it's 2017, and things have gotten even more out of hand. There's even a "sorority consultancy service" available now. For instance, Rushbuddies, which was founded by Pat Grant, seeks to help girls in what Grant described as "one the most important aspects of higher education."
Yep, you read that right, sorority recruitment is now apparently "one of the most important aspects of higher education."
Seriously?
In nearly every region of the country, one can hire a sorority recruitment consultant to help with personal image, conversation training, styling, even damage control (such as a drunken night in high school that resulted in a few too many internet images).
I can't believe this is real life.
Has it all gone too far? Yes. But in the case of USC and other campuses that are making an attempt to reel in some of the madness and high-achievement pressures surrounding Greek organizations, it's nice to see changes are being made to adapt to both the changing landscape of modern college campuses and their students.
A recent death of a fraternity pledge on the campus of Florida State University has prompted officials to temporarily suspend all Greek activities. But FSU is not alone in recent Greek-related deaths, as both Penn State and LSU have instituted sorority and fraternity suspensions this year as well.
Sororities and fraternities may have gotten out of hand, but let's hope that these efforts help rein them back in. I wouldn't trade my sorority days for anything. They were my first foray into female empowerment, providing a great example of what lifting up and supporting other women really looks like — both back then and today.
Twenty-five years later, the friendships I formed through my sorority are still going strong. The women I was proud to know then I'm even prouder to be associated with today. They're currently CEOs, physicians, business owners, scientists, and homemakers, but in my sappy heart, they will always be my sisters.
I can only hope both sororities and fraternities continue to evolve with the times and maintain their reputations as fervent and bright campus student leaders and philanthropists — before we lose them altogether.
This article was originally published on