Sour Patch Kids Cereal Is Coming And Who Are We Kidding, We'll Buy It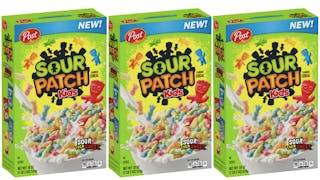 Image via Post
Sour Patch + cereal = maybe, possibly the best thing ever?
Alright, hear us out with this one. Post Cereal is teaming up with Sour Patch Kids for what will possibly be the most bizarre breakfast combination any of us will experience in our lifetime. With that said – yes, you and your entire family will probably get fully on-board with this.
Here's the whole deeply sugary deal. Sour Patch Kids cereal is hitting Walmart shelves on December 26th for $4 a pop. It'll be released at other major retailers in June 2019, which means you have a decent amount of time to wrap your head around incorporating candy into your morning breakfast.
Your kids, meanwhile, will cry tears of pure joy. So much sweetness. So much colorfulness. None of the annoying sugar that gets on your fingers after you shove fistfuls of sour patch-y goodness into your mouth.
Okay, so what does it actually TASTE like? One brave Thrillist writer named Lee Breslouer did us all a solid and tried out the cereal. Turns out, he was pretty into it.
"There's the crunch from a corn/wheat-based sugary breakfast cereal… but something was different! Holy moly, they nailed the sour flavors," Breslouer wrote. "And not in a bad way, because it's also still very much a sugary cereal." He noted that it tastes like "Sour Patch Fruity Pebbles" and we can definitely get behind that.
However, Breslouer cautioned against actually dumping a bag of sour patch into milk and going to town. It will not taste good.
If you're suddenly having a hankering to serve up cereal with an side of extra sweetness, there's more. Post has also made Chips Ahoy, Nutter Butter AND Oreo cereal. Heading to the grocery store right now.
See? Maybe this idea wasn't so silly after all. First it was sour, then it's sweet (sorry not sorry).