Spa Offers 'Wife Daycare' So Husbands Can Piss Women Off Before Pampering Them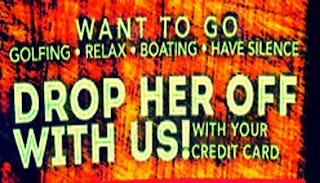 Have you ever heard of "wife daycare?" You may have, because spas from Florida to California are using it as a marketing gimmick to sell spa packages to men. Get it? Wife daycare? HA HA HA. You can shuttle that annoying life partner of yours out the door and get some well-deserved alone time, men!
A Pasadena spa posted this to their Instagram page with the caption, "Project Beauty Spa offers #wife #daycare! In need of some #alone time or some time with your boys? We've got you covered! Just drop her off with your credit card and we take care of the rest!" This is a sign that lives outside the door of their establishment. An establishment owned by women, who've apparently been frozen in a block of ice for several decades, and emerged to open their dream business.
They're not the only ones who think this lame campaign is a great idea. A Florida spa is offering the same package. From Your Tango:
Want to go boating or have silence? WTF?
Did a team of people think this up, or just one moron? I really think this person has stepped out of a time machine, there's no other explanation. And before you start calling me a feminist killjoy (which I am, but whatever) the idea of insulting women — who are the cornerstone of your business — as a marketing ploy is unforgivably stupid.
Unfortunately, most of us need a damn foot rub so bad we'd overlook this nonsense to get it. Businesses – especially those owned by women — can do better than this. I can't imagine a woman being thrilled to be put in "wife daycare" — even if it involved a massage, fluffy robe, and cucumber water.
Related post: 'Me Time' Is Bullshit Once You're A Mother
This article was originally published on