Trump's Spaceforce Logos Look Like The Cover Of A Children's Book
by Christina Marfice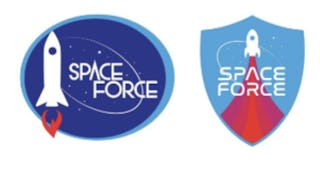 Image via Trump Campaign/Twitter
You can choose the new Space Force logo from any of these six nonsensical options
If there's one thing Donald Trump has always done really, really well, it's branding. Those awful red MAGA hats have become synonymous with the presidency's brand, because yes, we live in a time where everything, even the presidency, has a brand. And that includes Trump's proposed new military branch, the Space Force. It's branding time for Space Force, and you, America, get to help choose which ridiculously childish logo will represent your new astro-military.
The Trump 2020 campaign sent out an email to its subscribers this week, containing the six apparently short-listed logo options. They all look like they're inspired by The Jetsons or belong on the cover of a children's book. But that's beside the point. What's important here is that you get to pick!
"We have to make a final decision on the design we will use to commemorate President Trump's new Space Force — and he wants YOU to have a say," the email read. Welp, without further ado, here are the options for what might adorn military astronauts' uniforms.
Yes, that first logo is the NASA logo redesigned in red. And that last one does inexplicably read "Mars Awaits," even though Space Force is about how the military uses satellites for its operations and has absolutely nothing to do with Mars. It doesn't matter, because further in the email, the true purpose for this vote is revealed: "As a way to celebrate President Trump's huge announcement, our campaign will be selling a new line of gear."
Ah, so these might not even be the actual logos for Space Force. But you will be able to buy a neat new ball cap screen printed with the winning rocket ship doodle, with all those dollars going right into the Trump Campaign's 2020 election fund. Space Force merch. Great.
A recent announcement by Vice President Mike Pence revealed Trump plans to have the Space Force off the ground (get it? Off the ground? Like in space?) by 2020. Here's hoping these logos are just for merchandise purposes, or folks will have a hard time taking our new soldiers seriously.