'Space Jam 2' Is Officially Happening With LeBron James And It's Everything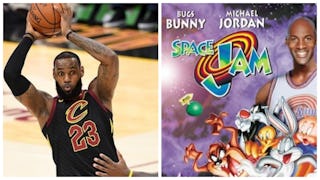 Image via Getty/Jason Miller / Stringer/IMDB
Space Jam 2 will start filming next summer, after LeBron's season ends
More than 20 years since Space Jam's release, a sequel is officially in the works starring LeBron James alongside the Looney Tunes. It's the sequel every '90s kid has been waiting for, and now a whole new generation of kids gets to experience the greatness of it all.
The original Space Jam starred Michael Jordan back in 1996. Jordan and the Looney Tunes were joined by Charles Barkley and Larry Bird as well as plenty of celebrity cameos to help defeat the scary Mon-stars in an epic human/cartoon basketball game for the ages.
Yesterday, James and his production company, SpringHill Entertainment, announced that the Space Jam sequel is officially happening, and will start filming next summer.
Anyone else get emotional seeing Bugs Bunny's locker featured there? No? Just me? Okay then.
Space Jam 2 will be produced by Ryan Coogler, who directed Black Panther. "The Space Jam collaboration is so much more than just me and the Looney Tunes getting together and doing this movie," James tells ABC News. "It's so much bigger. I'd just love for kids to understand how empowered they can feel and how empowered they can be if they don't just give up on their dreams. And I think Ryan did that for a lot of people."
I don't know about you, but this news makes me want to dig out my old Tweety Bird jersey and Bugs Bunny sneakers that I absolutely donned throughout the entire summer of my 11th year. And does anyone remember what a total banger the soundtrack to this movie is? "For You I Will" played in my room on repeat while I played M.A.S.H. with myself and wrote notes I'd never actually send to my 6th grade crush. And now I get to introduce my own kid to her generation's Space Jam? Amazing.
The internet seems to agree — we're all ready to jam on this one.
https://twitter.com/jetpack/status/1042524912798322688
https://twitter.com/jetpack/status/1042764464112758785
No word yet on which NBA stars will join James in the sequel, but all I need to know is my boy Bugs is back as point guard. And a Michael Jordan cameo is all but a guarantee, right? Here's hoping.