Your BFF's Gonna Love Wearing Your Face On Their Clothes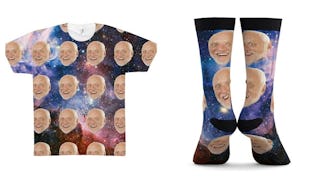 Image via Etsy/Onyx2000
We really don't see how this t-shirt could ever possibly go out of style
Don't you hate those mornings where you look through your closet and your dresser drawers and you can't find anything to wear? And then you think to yourself, "Man, I just wish I had a shirt that looked like the universe and covered with pictures of my best friend's face"?
Well, your dreams have just come true and you'll never have to search your closet in vain ever again (unless your universe shirt with your best's friends face on it is in the laundry).
Head over to the Onyx2000 Etsy shop to order your shirt. You'll need to upload a high-resolution picture of your best friend (or your mom, or your second-best friend, or yourself, if you're feeling delightfully vain) and then you just have to wait a week or two, and the shirt can be yours.
We know what you're thinking: but what am I supposed to put on my feet? How am I going to match this with socks? Don't worry: the very same Etsy store has you covered, literally (and they have very good reviews, by the way).
Is that all? You might ask? What if I want more customizable universe clothing with things' faces on it? Well, don't worry. There are some more things at this shop. For example, if your best friend isn't a human at all (we don't blame you), you can order both the space shirt and the space socks with your favorite fluffy puppy or kitty on it. Same rules apply: just email a high-res picture of your pet along with your order, and be aware that there's a 24-hour lag time to do the custom work.
The shirts are 100% soft polyester, machine washable, and unisex. They have a tearaway label an run true to size. The socks are one-size-fits-all and have cushioned bottoms and ribbed tubes.
And: The same shop has customized offerings (complete with space backgrounds) for putting faces (or pet faces) onto tote bags and mugs. Now you just have to decide: do you keep these goodies for yourself, or give them as gifts? The possibilities are as endless as the vast universe printed on your new custom novelty t-shirt.
This article was originally published on