Gym Trainer Leads Fitness Class For People On Their Balconies In Spain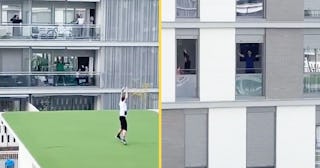 TODAY/Instagram
A fitness instructor in Spain is doing what it takes to help his neighbors get a workout in while they're all on lockdown
In Spain, citizens are fully locked down to help slow the spread of coronavirus. That means no going out to bars and restaurants, gatherings with friends, or even to the gym, until the lockdown is lifted. Lucky for the residents in one apartment complex, though, there are people finding ways to stay social and active even while isolating themselves.
A video now going viral on social media shows a personal trainer from Spain named Gonzalo, who took to the roof of his building to hold a fitness class for all of his neighbors, who joined in on the activity from their balconies all around him. The Seville trainer can be seen in a number of videos leading all his neighbors through a series of jumping jacks, squats, and reverse lunges.
"This is how @gonzalo_gbroto is passing the time with his neighbors. This is the spirit of Sano Sevilla Los Bermejales. Despite such adverse circumstances, we're going to get the best out of you," Sano Sevilla Los Bermejales, the personal training center where Gonzalo works, wrote on social media as they shared the video.
In the video, you can hear the person filming the event laughing as they pan the camera around a number of different apartment buildings. You can see dozens on people on nearly every balcony with a view of the roof, following along with Gonzalo's exercises as he shouts instructions and encouragement to them.
Luis Javier, a manager at the gym where Gonzalo normally works, told the Today show that the neighbors used a Whatsapp group to coordinate and organize the workout class.
"All the neighbors were having a hard time and sad, but now, every day they are looking forward to the time for their training. It is a healthy idea, which helps people feel much better and face the situation in Spain in a positive way," he said.
As quarantines, school closings, and strictly limited social gatherings hit every corner of our country, it's important to keep mental (and physical) health in mind. Being alone can be hard — what Gonzalo is doing can truly help people during a difficult time. Definitely stay home for the good of all, but if you have a neighbor who can conduct fitness classes from afar, it could be just the shot of positivity you need.
Information about COVID-19 is rapidly changing, and Scary Mommy is committed to providing the most recent data in our coverage. With news being updated so frequently, some of the information in this story may have changed after publication. For this reason, we are encouraging readers to use online resources from local public health departments, the Centers for Disease Control, and the World Health Organization to remain as informed as possible.