Have A Spirited Child? Here Are 10 Gifts They'll Totally Love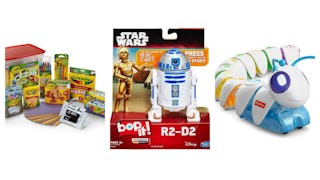 Crayola / Hasbro / Fisher Price
Having a spirited child isn't for the faint of heart. It takes a lot to keep up with their busy minds, so it's important for them to have options. Spirited kids often have a lot of energy, too, so giving them gifts that encourage them to be physically active is an extra bonus.
For those of you with a spirited child in your life, this gift guide will help you figure out what to get those special little folks so you have more time and energy to chase after your little tornado, er, child.
There's a reason Legos withstand the test of time; you can't go wrong with them. This 500+ piece set is good for kids age 4 and up, and will provide hours of entertainment for young minds with busy hands and minds. The best part is that they come in their own storage box, which will minimize the numbers you step on a rogue Lego.
If you'd prefer to give a gift that doesn't feel like a million tiny knives going through your foot when you step on it, this is it. Kids get 30 pieces of construction paper, crayons, markers, colored pencils, modeling clay, and paint. Perfect for snow and sick days.
For the days when it's not too cold or snowy (or for those who live where it's always fair weather), a scooter is the perfect way for kids to get out some of their energy. Let them ride around in circles for a while (with a helmet, of course!), and hopefully they'll sleep soundly that night.
Perfect for indoors when the kids just won't sit still. They can crawl around and have a picnic inside. Be prepared to be asked to sit inside; they tend to get hot.
Getting a spirited child to sleep can be a challenge sometimes. This sound machine has a 15-, 30-, or 60-minute timer for the six different calming sounds that are sure to lull even the most reluctant kid to sleep.
A throwback game that is as fun now as it was then. Simon is all about following patterns, which is great for spirited kids who have laser focus. The patterns get increasingly more complicated, so watching them try to keep up is so fun.
If they're looking for a project that may take longer than an hour (or a day,) puzzles are a great idea. It forces them to sit down for a few minutes too! This ocean life puzzle is also great for identifying different ocean animals, too, and the colorful designs will hold their attention.
Perfect for little people who love to make their own fun! They can create their own code patterns to move the code-a-pillar through the room with an endless amount of coding options!
Another fun "follow the leader" type game, featuring one of our favorite droids! The voice of C-3PO gives you the instructions, and each level gets faster and faster, perfect for busy minds and bodies.
This classic board game is perfect for kids with a lot of energy. Whoever has the hippo who eats the most balls wins. But it can get cutthroat as they race to get the balls in their hippo's mouth!
Spirited kids have energy to burn, and minds that never stop running. It's important to find gifts that will keep them entertained, which is always a challenge. But these toys definitely fit the criteria and are sure to please!