'SpongeBob SquarePants' Creator Stephen Hillenburg Dies At 57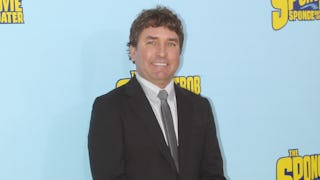 Image via Jim Spellman/Getty Images
Hillenburg, the creator of iconic cartoon "SpongeBob SquarePants," has died
Stephen Hillenburg, the creator of the quirky, weird, and lovable Nickelodeon cartoon series SpongeBob SquarePants died on Monday. The 57-year-old cartoonist and animator lost his life to ALS, a progressive neurodegenerative disease, which he was diagnosed with last spring.
SpongeBob is one of Nickelodeon's biggest hits of all time, and has aired for nearly 20 years since its premiere in 1999. Known for its wacky cast of sea creatures, headed by the joyful and punny SpongeBob himself, the show and its characters have become cultural icons in the matter of decades.
"We are incredibly saddened by the news that Steve Hillenburg has passed away following a battle with ALS," Nickelodeon said in a statement. "He was a beloved friend and long-time creative partner to everyone at Nickelodeon, and our hearts go out to his entire family. Steve imbued SpongeBob SquarePants with a unique sense of humor and innocence that has brought joy to generations of kids and families everywhere. His utterly original characters and the world of Bikini Bottom will long stand as a reminder of the value of optimism, friendship and the limitless power of imagination."
Raised in California, Hillenburg had a dual love of the ocean and art from the time he was a child. He first studied marine resources and marine biology, graduating from Humboldt State University in 1984 before becoming a marine biology teacher. But his interest in art took center stage in 1987, when he pursued his education in Experimental Animation at the California Institute of Arts, earning a Masters in Fine Art in 1992.
He began is career at Nickelodeon in 1993, as a writer and director of Rocko's Modern Life before developing his own show, SpongeBob Squarepants. The show has been released in over 60 languages and led to two blockbuster movies — with a third coming out in 2020.
Over the years, Hillenburg not only won two Emmy Awards and six Annie Awards for his work in television, he also won recognition for his work in increasing marine life awareness.
As news of his passing spread, tributes to the man and his creations began to pour in.
Hillenburg is survived by Karen Hillenburg, his wife of 20 years, son Clay, mother Nancy Hillenburg (nee Dufour) and brother Brian Kelly Hillenburg, his wife Isabel and nieces Emma and Hazel.
This article was originally published on