Order These Indulgent Gifts In Advance For Your Favorite Holiday Host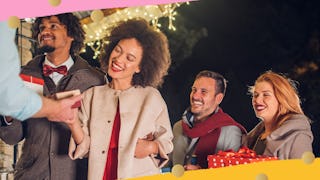 Everyone knows that one mom who loves to host a party—she's usually a fab chef, yet oddly has a clean kitchen (how?!), her house smells like a meadow, and her fridge (both wine and food) is always stocked. If you want to be that mom, here are some things you need. And if you are that mom, we'll be right over. Here are the best gifts to grab your favorite (wink, wink) hostess!
Ain't no shame in the wine game! This wine bottle/glass will keep spirits high all through the holiday season, and if you and your favorite party host share a great sense of humor, this gag gift will go over well.
The Napper is a hand-knitted weighted blanket made of layer after layer of soft organic cotton. It's cozy, chunky, and most importantly, heavy as hell. You can choose between three different weights – 15, 20, and 25 – all of which are specifically designed to create a comfortable, safe space that helps the user relax and get to sleep quicker and deeper. Mmm, hygge! If this is above your budget, grab a version from Amazon that's just as cozy.
What's more thoughtful than a custom constellation map with family names on it? The best part about this gift is that it's totally customizable, so your favorite party host will know just how much effort you put in to make it perfect for her. You can choose the font, the names and text, and even color.
With orange, cinnamon, apple, and amber tones, this Mulled Cider No. 5 scent from Sweet Water Decor seamlessly makes the transition from fall to wintertime scent. You'll smell oranges, cedarwood, cranberries, lemons as you burn it. In fact, it might even inspire you to bake a pie. It smells that good. Other good stuff about this candle: Not only does it smell A+, but it's gluten-free and phthalate-free so you can burn the wick guilt-free of bad chemicals and toxins. AKA, it's fine to give to the granola holiday host.
Is your host also a mom? Why choose just one gift when you can give an all-encompassing box of goodies complete with acrostic "Mother" mug, sterling silver necklace, hilarious socks, a candle, and more? Silly Obsessions boxes save you the time and effort of having to throw together a basket or box, and any mom would love the thoughtful gifts included here.
Here's a gift that all wine snobs and haughty hosts would want. It's the easiest way to keep wine at the desired temp, without overcrowding your fridge. This wine cooler has sturdy slide-out racks so you can easily fit as many as 18 bottles—and keep them cool until you're ready to sip. Yeah, it's extra. So make sure you give it to a host you know really well or just get it for yourself if you're trying to throw a party and impress your guests.
Related: The Ultimate Holiday Gift Guide
This article was originally published on