25 Halloween Books To Read With Your Kids In 2020
by Steph Osmanski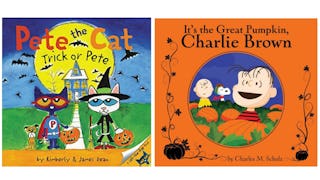 Reading to or with your kids before bedtime should be a fun-loving time, Mom, but around October 31, the stories you tell might start to cause a fright. To prepare your little one for all the Halloween-themed shenanigans that are about to ensue, grab a spooky read for a haunted storytime.
Of course, you don't want to freak out your kid too much, especially if they're little, so we've included some G-rated pumpkin stories in addition to some of the more spooky stuff. From the Little Golden Book version of Disney's Coco to toddler- and baby-friendly board books like Goodnight Goon, we promise these bedtime reads are the appropriate amount of terrifying. Sure, there are ghosts and witches and monsters, but nothing so fearsome that your kid will have nightmares (or worse, go hide under their covers screaming bloody murder). Regardless of how Halloween pans out this year, rest assured you can still have a good time at home. Pro tip: Be sure to stock the candy dish in advance and remind everyone to brush their teeth.
So, what are you waiting for, Mom? It's never to early to start getting your kids in the Halloween spirit, especially if books are involved.
As you gear up for the spookiest time of the year, be sure to check back for more mom-approved Halloween picks!