Meaningful 3-Year Leather Anniversary Gifts That Are Actually Unexpected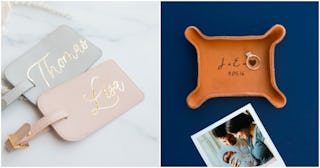 ThreeTwo1 / PaperAnniversaryLove via Etsy
Finding the best 3-year anniversary gift for your third anniversary together (aww!) is no easy task. Ever heard of "happy wife, happy life?" There is a reason why so many happy spouses use this quote: because it's true! So now is not the time to half-ass your gift-giving efforts. In fact, you better make damn sure your third anniversary gift fills their heart with all the feels, just like that first anniversary gift did. Because after three years of marriage, a kid or two has likely entered into the mix (or maybe she's expecting), life has picked up speed, and you've probably already navigated a few major bumps in the road. What has three years of wedded bliss taught you? That marriage is not all rainbows and unicorns. Staying connected takes hard work and real dedication to navigate the ups and the downs of a lasting relationship. This is why celebrating special moments like your third anniversary is the perfect opportunity to focus on each other. Plus, you can earn some real brownie points by showing your spouse just how special they are with the best 3-year anniversary gift you can find.
What is the gift for your 3-year anniversary?
Since leather is the traditional third anniversary gift — it represents the durability and flexibility of your relationship — we've found the best leather anniversary gifts for her, hands down. Quite frankly, we'd be psyched to get or give any of these leather treasures. But if you consider yourselves more of a contemporary couple, we've compiled a shortlist of modern crystal (and other non-leather) gifts as well. Crystal is thought of as the more current, or dare we say, trendy 3-year anniversary gift that represents the fragile beauty of a still-maturing marriage. On top of that, who can resist the allure of sparkling crystal?
Whichever material you choose, we've got you covered. From heartfelt romantic to utilitarian gifts, we've got all the best options to make sure the rest of your years together are as good as the first three have been. And if you really want to win Spouse Of The Year, get a head start by browsing these 4th anniversary gifts for next year.
Best Leather Anniversary Gifts For Her (Or Him)
Best 3-Year Anniversary Gifts
Looking for other great gifts for your spouse and every other special person in your life? We've got all the gift ideas you could ever need!