Skip The Toy Store Aisle And Create Unlimited Toys With This 3D Printer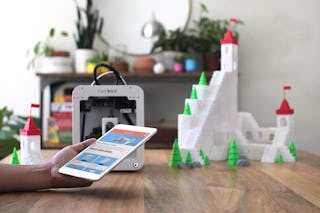 StackCommerce
Ready to get out of Target without adding an extra $50 in toys to your grand total? If your kids have the ingenious Toybox 3D Printer Deluxe Bundle, they won't need to peruse the toy aisles because they'll be able to create the toys of their dreams at home! This kid-friendly 3D printer was featured on Shark Tank and lets kids and adults alike design and print their own toys by simply hitting just a few buttons. The best part? This endless source of entertainment is available for the one-time price of $314.99 for a limited time, 32% off the usual price of $469.
The Toybox 3D Printer Deluxe Bundle lets your kiddos bring to life whatever toys they can think of, making it perfect for those blossoming imaginations. It's beginner-friendly and controlled with easy one-touch functions. Unlike other 3D printers, it doesn't require an unsafe knife to remove the prints once they're done, making it safe for kids to use on their own.
A companion app helps your amateur toy creators pick options from an ever-expanding toy catalog. And there's also the cool ability to create and upload unique designs, making sure the fun never stops. That means your child who is currently obsessed with farm animals can make the cow, horse, or chicken of her dreams whenever creativity strikes — no Amazon delivery or Walmart haul needed!
The Toybox 3D Printer Deluxe Bundle comes with both the printer and 8 different colors of non-toxic, biodegradable printer food that is good for making anywhere from 100 to 300 custom toys. That should (hopefully!) keep them busy for a while.
Provide endless entertainment (and maybe sneak away for a much-deserved nap!) with the Toybox 3D Printer Deluxe Bundle while it's on sale for $314.99.
Prices subject to change.
This article was originally published on