4th Anniversary Gifts To Celebrate The Fact That You Even Remembered It Was Your Anniversary
by Megan McCarty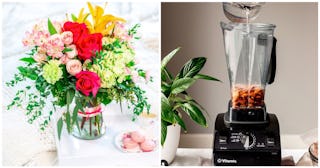 Teleflora/Amazon
Fourth anniversary gifts – let me guess, you're out of ideas. Marriage is hard enough, so no need to make things more complicated with "What the hell do I get for him/her?!" We're proud of you for even remembering your fourth anniversary. So don't worry about coming up with a romantic gift; we got you. What even is the traditional 4th year wedding anniversary gift? Year one is paper, year two is cotton, and year three is leather. Year four is a fun (and admittedly easy) one: flowers and fruits. While the American tradition veers fruity and floral, you could also veer the British way of linen or silk. And if you're feeling more modern, less traditional, the newer riff on a 4th anniversary gift theme is electrical appliances.
It goes without saying – though we'll say it anyway – that above all, your 4th anniversary gift (and any gift!) should be meaningful and useful to you and your partner. If it sticks within the theme, if that's your thing, even better.
Lucky for you we've scoured sites for the best 4th wedding anniversary gifts so you don't have to do the looking. Scroll on for a few of our favorite 4-year anniversary gifts for her, him and both of you.
The Best 4th Anniversary Gifts:
This article was originally published on