These Above Ground Pool Vacuums Will Do The Dirty Work For You — These Are The Best Ones
by Laura Hennigan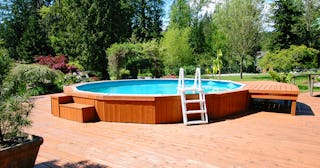 Getty Images/ DigiStu
They sell above ground pool vacuums? Yep. And you think I need one? Also yes. Turns out, all those crazy pandemic purchases from last summer have not been forgotten, and are now coming back to haunt us. My kids have already started asking when we can bust out my personal nemesis: the above ground pool (because several kiddie pools were not enough, obvs). Seeing as how the giant patch of dead grass was just starting to spring back to life, and we are all still traumatized from the drowning mouse incident, I'm not super thrilled about setting it up again. But in the spirit of being the "fun mom," I will most likely give in. Just like last year, we'll need to add in the usual pool toys, chlorine tabs, cover, goggles, and oversized floats.
But, for the sake of my sanity, there is one item we are upgrading in preparation for another '80s summer, and that is a pool vacuum. I'm not even sure how many hours I lost last year, bent over the side, angling to get every piece of dirt with a skimmer net while simultaneously trying not to let gallons of water spill out. No more, friends, no more.
We're going to share the very best pool vacuum robots that will help improve this bananas life you never, ever expected to have.
Best Above Ground Pool Vacuums
This article was originally published on