Unleash Your Inner Digital Artist With This Adobe Training Package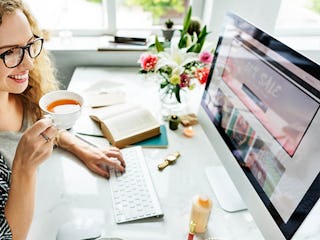 StackCommerce
Ready to flex your creative muscles? Looking to transition into a career based in graphic design or digital artistry? Learning to work with the fleet of Adobe software opens up many doors, in both the professional world and your personal world (imagine being able to use Photoshop to get a family photo where everyone is looking at the camera and smiling a la Kim Kardashian!).
But since many of these Adobe products can be intimidating on first use, sometimes you need a little help to get started. The 2021 Ultimate Adobe Designers Bundle provides just that, giving you an education on Adobe Photoshop, Adobe XD, InDesign and Lightroom from the comfort of your couch. If you've been wanting to get well-versed in all things Adobe, you can snag these 12 courses for just $45 today.
With more than 42 hours of content, you'll receive an excellent education and learn how to create better designs, icons, UI/UX and more with this bundle. Benjamin Wilson, an entrepreneur and marketing innovator with a 4.4 out of 5-star instructor rating, will walk you through courses like the 4.7 out of 5-star-rated Adobe Photoshop CC: Complete Beginner to Advanced Training. This course is filled with valuable Photoshop lessons that will take you from novice to expert, and you'll be learning via 10 fun activities. Benjamin also teaches helpful courses like Design a Digital Productivity Journal for Your iPad, which not only shows you how to use Keynote, but leaves you with a perfect mom product: a place to track your daily habits, goals, reading lists and more. Have a great idea for merch for your side-hustle? You're definitely going to want to tune into Benjamin's Design and Create Personalized Merch Using Photoshop course.
Digital entrepreneur Juan E. Galvan, who has amassed a 4.5 out of 5-star instructor rating, will get you up to speed on Adobe XD with Learn User Experience Design from A-Z: Adobe XD UI/UX Design. This software can turn you into a professional UX/UI designer, helping you to create stunning websites and apps completely from scratch for whatever you need, and this 4.4 out of 5-star-rated course gets you comfortable with how it all works. Then let Khalil Ibrahim, a Chief Design Officer and WordPress expert with a 4.4-star rating, teach you all about InDesign with the 4.8 out of 5-star-rated course InDesign CC Essentials for Beginners: Basics and Tricks.
Get a well rounded education in the world of Adobe with The 2021 Ultimate Adobe Designers Bundle. It's available right now for just $44.99.
Prices subject to change.
This article was originally published on