Limited Time: FREE Amazon Kindle Unlimited For 3 Months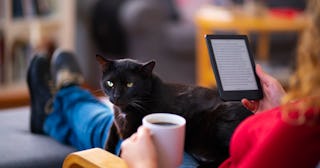 Getty Images
It feels like the heavens just opened up to let the best books rain down on us. Amazon is running an insane deal right now which offers access to over one million books… for free. For four whole months. Few things in life are free, and this might just be our favorite. During these crazy pandemic times, one of the best escapes has been through reading. But books can be expensive, and depending on where you live, libraries might be closed (or have limited access). So how exactly do you get free books with no library? Hello, Kindle Unlimited. Here's everything you need to know about Kindle Unlimited and this amazing deal.
What is Kindle Unlimited? Is there a free trial?
Kindle Unlimited is like a media streaming service, but for books. Instead of paying for a single book, you pay for a subscription package and gain access to an unlimited variety of books. In addition to books, Kindle Unlimited offers thousands of audiobooks to choose from, the hottest magazines, and more. Bar hopping is fun, but book hopping is so satisfying. Right now, you can get four months for $0 if you're a Prime member. This deal only lasts 6/21 and 6/22, and renews at $9.99 after the four month free trial.
How much is Kindle Unlimited?
Right now, it's free. You can sign up to read your favorite titles (over one million to choose from) for free via Kindle Unlimited. The free subscription will last for FOUR FULL MONTHS if you're a Prime Member, which is plenty of time to read quite a few titles from start to finish. After the free subscription ends, you can still access the massive library for just $9.99.
What's the best Kindle to use?
If you don't own an e-reader, consider getting the new Kindle Oasis. Which is 26% off for Prime Day right now, BTW. The Oasis is the latest innovation in e-readers. The waterproof Kindle Oasis features mood settings, a more novel-like page flip, it's super lightweight, and it doesn't feel as heavy or electronic-like as a traditional e-reader.
Read More:
54 Gifts For The Mom In Your Life: Because This Sh*t Is Hard And She Deserves It
29 Teen Gift Ideas, Because Who Even Knows What They Like?
This article was originally published on