Get Your LO's Back-To-School Shopping Done Early With These Amazon Prime Day Deals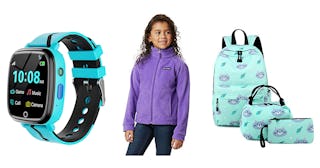 Amazon
It may be a little early for back-to-school season, but these Amazon Prime Day deals are making it really hard not to start shopping now. We say go with the urge, mama. Shop! Whether your LO is entering kindergarten or your not-so-little is heading to high school (you can freak out later), Prime Day 2021 — which is from June 21-22 — has some major deals on things everyone could use. Items like backpacks, lunch boxes, school supplies, and the cutest first-day-of-school outfits are all a part of Amazon's highly anticipated two-day event. And what better time to stock up and prepare than during one of the biggest sales of the year?
Still Prime Day shopping? We've also rounded up the best deals in kitchen, tech, fashion, beauty, baby, and the best deals overall!
Best Back to School Prime Day Deals
Bookmark this page so you don't miss out on our favorite Amazon Prime Day deals of 2021. We'll be live reporting on the biggest price cuts. Plus, sign up for Amazon Prime so you can take advantage of the best Amazon Prime Day deals of 2021!