Subscribe And Save On *Every* Pet Product You Need On The Reg With Amazon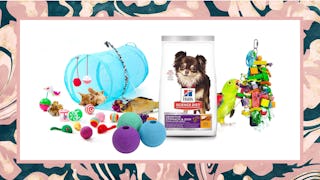 Amazon's empire is built on the concept of convenience — and really nowhere is that philosophy more evident than with their Subscribe and Save program. For pet parents, this service can be a Godsend: It means avoiding getting caught without a refill on Max's food or Bailey's cat litter; because no matter how many times you remind your spouse, your kids, or yourself to stock up, shit happens — or just gets forgotten.
Whether you're a busy mama whose kids swore they would be fully responsible for taking care of Mrs. Whiskerson (pipe dream), a city-dweller who doesn't have a car (or the arm strength) for schlepping bulky pet supplies from the store to your apartment, or just a pet owner seeking the most convenience and savings as possible, it's time to try just subscribe and save. Just select the quantity of the pet supplies you need, the schedule that works for you (anywhere from monthly to every six months), create your subscription, and wait for your dog food, cat litter, joint supplements, bully sticks — whatever — to be delivered straight to your door, with no shipping charges.
Of course, convenience isn't the only benefit of this service: There are also subscriber deals to take advantage of. When you receive five or more products in a given month to a single address, you save up to 15% or 20% off on select pet food and treats if you're a Prime member. If you need items ASAP, you can opt for a 1-2 day shipping window and still get 5% off, while keeping the following subscription shipments standard for the full percentage off. All products are authentic, sourced directly from brands and authorized re-sellers, so there's no worrying about giving your furry family member janky treats or counterfeit supplements.
Thinking Subscribe and Save might be the pet-parent hack that's been missing from your life? Scroll on to see just a few of the supplies you can score when you sign up! And remember, you can always cancel (or skip deliveries). This is not a life-long commitment.
Want to find more household must-haves? Check out our home and kitchen section for everything from pet beds to dishware!
This article was originally published on