From Avocado Oil To Oat Milk, Here Are The Groceries A Nutritionist Mom Buys On Repeat With Amazon Subscribe & Save
by Jessica Waller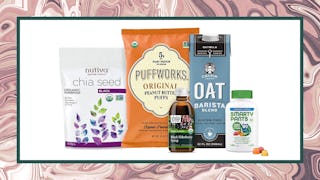 As a nutritionist, I *love* grocery shopping. I get a weird high from going through each aisle and scouting out new products and dreaming up creative ways to use whatever fresh produce is in season. But as a mom, I'm all about a life hack. Groceries—delivered? Thanks to Amazon Subscribe & Save, yes, please. I should amend my first statement: I love solo grocery shopping. Sure, it's sometimes fun to go with my two kids…sometimes. We talk about the ingredients needed for their favorite morning muffins, I let them help choose the cereal we'll try that month and they're stellar at picking out the prettiest peppers. But let's be real: Sometimes, often-times, it's a hassle.
RELATED: 8 Best Nutritionist Recommended Vitamins & Supplements For Kids of All Ages
Now, though, the essentials just show up at my door regularly, without even having to put on my good sweatshirt. Which means I get to go to the store much less frequently—and I (we) really savor those moments. No more dragging a 30-lb toddler who's up way past his naptime into Trader Joe's just to get a carton of oat milk. The essentials are delivered with just a click (yes, I fully consider oat milk an essential!). And you don't have to be a Prime member (although the discounts are bigger), plus you can skip or cancel this subscription anytime.
If you, too, are looking for a few more moments of peace (and less time wrangling an overly full grocery cart with a wonky wheel), try Amazon Subscribe & Save for your regular rotation of favorites. Here's what I get excited about not actually shopping for (in person) every few weeks!
Seeking more kitchen must-haves and time-savers? Or just some non-kid snacks? Check out our picks.
This article was originally published on