Same Sh*t, Different Week — Let Amazon Deliver The Health And Personal Care Products You Need On Repeat With Subscribe & Save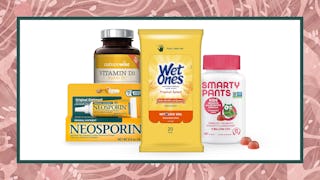 There are certain health products that are probably on your shopping list every. single. month, and while they're necessary as everyday essentials, they're probably not as exciting as say, that stylish leather jacket you've been eyeing for weeks. But a healthy family is a happy family, and that jacket isn't going to do you any favors when you're not feeling 100 percent and still have to pack everyone's lunch box. Priorities people.
If you're tired of running to the store every few weeks just to buy and/or forget the same things over and over, check out Amazon's Subscribe & Save program. For all those items that you need to regularly have on hand — like feminine products you still can't get over having to buy every month or first-aid supplies for your slightly too fearless kids — you can set up a recurring delivery schedule of your choice (anywhere between one and six months), sit back, and let the products come straight to you. You can cancel or change the subscription at any time, and there are no additional fees. It's like having a personal assistant that you don't have to pay.
RELATED: 8 Best Nutritionist Recommended Vitamins & Supplements For Kids of All Ages
Subscribe & Save has the added benefit of giving you up to 15 percent off a large collection of best-selling products, so not only do you save time, but you can also save. And if you need something stat (we're looking at you, procrastinators), you can still receive it within the usual 1-2 day shipping window with a five percent discount.
Basically, it's an easy way to keep your family healthy with minimal effort on your end. Because busy people have better things to do than remember when they run of vitamins, and those bottles aren't going to buy themselves. Here's a list of Subscribe & Save health and personal care products to get you started on your journey.
Check out other great Beauty Must-Haves to keep you feeling and looking your best.
This article was originally published on