Everything You Ever Wanted To Know About Audible — All In One Place
by Amanda Davis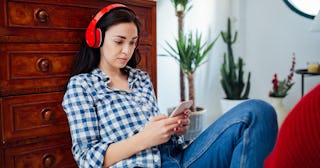 Getty Images
If you're an avid reader who just can't seem to find a moment or a non-reader who just prefers to listen, it's officially time to join the Audible club. Sitting down with a good book has always been a relaxing pastime, but when you've got a million things on your to-do list, it's likely you won't have the time to finish an entire novel, let alone crack one open and get through a chapter. That's why audiobooks are loved by so many. You can listen in your car, while you're folding laundry, cooking dinner, at the gym — anywhere, anytime, anyplace an audiobook is always an option. And the best place to build your audio library is Audible, an app that gives you thousands of book options in one place.
With Audible, books aren't just monotonously read to you, the stories are beautifully told and narrated — occasionally by the author themselves, or by celebs you know (like Nick Offerman or Reese Witherspoon, just to name a few). Podcasts and Audible Originals (a.k.a. exclusive work and interviews you can't get anywhere else) are also available on Audible when you want to take a break from your current read. And when you want to keep the kiddos busy, they've got a huge kid's collection that's free while most schools are on pause.
Audible deals?
Audible always has great deals going on, and if there's one thing we can all get on board with it's a sale. Audible Premium Plus will be available to customers at 53% off – only $6.95/month for the first four months with access to the Audible Daily Deal which features a new discounted audiobook every day. This only applies if you're a Prime member, so sign up today if you're not (you get a free 30-day trial).
Plus, you can get Audible for FREE for 30 days with their 30-day free trial.
Free Audible books?
Yep, it's true. You can read tons of books from metaphorical cover to cover, completely free on Audible. The free library includes recently released books, trending podcasts, and tons of wellness, sleep assistance, and guided mediation content. For kids, entire collections like "Littlest Listeners," "Elementary," and "Tween," are free to access — no membership needed. Note that it's only for a limited time!
How does Audible work?
Audible is meant to be easy and convenient. The app is available for both iOS and Android, as well as Kindle devices. As an Audible member, you have the choice between two different plans: Audible Plus and Audible Premium Plus. Each membership is a monthly plan that gives you unlimited access to audiobooks, podcasts, and Audible Originals. Additionally, the Premium version gives you 1 credit each month that goes toward redeeming any of your premium titles. You'll get to keep it forever! With most books averaging about $18 – $20, that's definitely a steal.
What's Audible Plus?
The Audible Plus plan gives members access to thousands of books at any time. The membership is only $7.95 a month, and allows unlimited streaming, listening, and downloading right in the Audible app.
What's Audible Premium Plus?
For $14.95 a month, you get everything from Audible Plus, plus some. With Premium Plus, you have access to 550,000 titles, versus Plus, which has 11,000 titles.
How to give Audible as a gift
When gifting Audible, you have the option to select a one, three, six, or 12-month plan for the reader. To gift someone a membership, visit the Gift Center and click "Give membership." If there's only one title you want to gift, sign in to your Audible account and select "Give as a gift" on the book's product page.
No more never finishing books or not having time to read one at all! Sign up for Audible now for a free 30-day trial and endless access to read (and reread) your favorite novels on demand.
This article was originally published on