Audible Now Has A Sleep & Meditation Feature (And Yes, Please)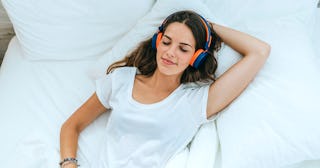 Getty Images
I wasn't the best sleeper anyway, but when 2020 hit, my brain seemed to forget what taking a break was supposed to look like. Worrying about the pandemic, my job, family, and the state of the world took front and center in my life. Instead of getting 8 hours (okay, 6.5, realistically), I just stayed up all night, racked with anxiety. Night after night. And nothing seemed to really help. For over a year, I struggled with insomnia (Ariana Huffington calls it "Coronasomnia") that I thought I'd have to just live with forever. Until a good friend told me Audible has a new Sleep Collection.
And guess what? Audible Premium Plus will be available to customers at 53% off – only $6.95/month for the first four months if you're a Prime member (sign up today if you're not — you get a free 30-day trial). This promotion starts now! Click here to learn more.
Plus, you can also get Kindle Unlimited for free for FOUR whole months if you're a Prime member.
What's the Audible Sleep Collection?
Audible's Sleep Collection (a collaboration with Ariana Huffington), is a new offering you get for free if you already have an Audible membership. It offers guided meditation, ASMR, bedtime stories, reflections, soundscapes, sound baths, and more. When I'm feeling especially down and out and discouraged, I'll play a reflection like "Do Not Give Up," or the meditation "Honor Yourself" (which is narrated by P. Diddy, and very soothing). Or I'll listen to a bedtime story narrated by Keke Palmer or Nick Jonas.
Basically, Audible Sleep is a way for you unwind, take deep breaths, and use auditory tools to tire your brain out. While I also highly recommend therapy, Audible Sleep has helped me get my sleeping back on track. Audible describes the app by saying, "We've created a collection of audio experiences designed to help you relax. It's one more way we're hoping Audible can help right now. The Sleep Collection is included with Audible Plus and Audible Premium Plus memberships, as part of the Plus Catalog. We have a number of Sleep 101 titles free for non-members."
How can I access the Sleep Collection titles?
Simply sign into your Audible account, go to the Sleep Collection page, choose which title you want to listen to, and then select "Add to Library." That way, when you go to library, that title will always be there. You can continue to add on to it.
If you're not an Audible member, check out their membership deals here. You can always try it for free for 30 days! Learn more about Audible perks here.
This article was originally published on