12 Best Hair Ties For Babies -- Because That Precious Head Of Hair Gets Wild Sometimes
by Jenn Sinrich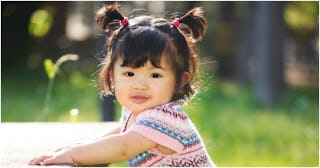 Getty Images/Arief Juwono
Finding the best hair ties for babies is a task that can easily be forgotten until it's needed most. Of all of the products you knew you'd need to buy your child, you may or may not have prepared for their growing head of hair and the hair accessories to contain it all. Whether you're the kind of mom who loves YouTubing the latest hairstyles or is just looking for something to get the hair out of your child's face, rest assured there is no shortage of hair ties available online for babies.
When it comes to shopping for hair ties for babies, the most important thing is quality. After all, you don't want something snapping back and hurting your child, or pulling too hard at their precious, fragile hair. You also want a bang for your buck—if you're spending the money, you want a handful of these hair ties so that you don't have to keep purchasing them week after week.
Ready to find solutions to your baby's bad hair days? Check out our mom-approved list of the best hair ties for babies!
Best Baby Hair Ties