Here Are The Best Baby Loungers That Give Moms A Much-Needed Break
by Ana Connery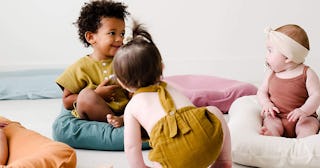 Snuggle Me Organic via Amazon
When baby loungers first came out, moms everywhere were dancing a jig because we finally had a place to put our babies when they weren't eating (high chair) or ready to go bed for the night (crib), which meant our aching arms and back got a break. Suddenly making a phone call, starting dinner, or sending an email became waaaay easier and you no longer had to look for your partner, or pop open a giant playpen just to put your baby down for a few minutes. From lounging, to story-time, and a whole bunch more in between, a ton of activity can safely take place in this one little spot. (It's no wonder moms love these loungers as much as babies do.)
RELATED: The Best Portable Cribs For Taking Your Little One Anywhere— From Down The Hall To Across The World
What are baby loungers?
If you're not familiar with this snug spot, the best baby loungers are really just a comfy spot for your baby to rest, but with plenty of back and head support. Most are pillow-soft but firm enough to keep your baby from rolling over. The best baby loungers are also usually lightweight and easy to move around, so you can free your hands when and if you need to, wherever you happen to be.
From simple and affordable to the more expensive kind with tons of accessories, these eight baby loungers are some of the best on the market right now. Check 'em out and give that aching back a break— finally!
Now that you've got your baby lounger figured out, check out our other must-have baby gear!
This article was originally published on