We Will Use The Force To Obtain This Baby Yoda Slow Cooker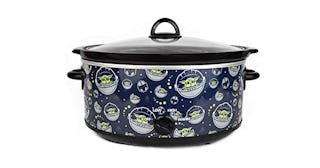 Amazon
In honor of Season 2 of The Mandalorian (which just started streaming on Disney+ today!), we present you: A Baby Yoda slow cooker from Uncanny Brands. Because not only do we love all things Star Wars, but we love making convenient dinners. Baby Yoda took over our lives late last year when the first season of The Mandalorian first premiered. The Child immediately stole our hearts, and ever since, we've been buying everything from Baby Yoda Monopoly to Baby Yoda Build-A-Bear. All kinds of Baby Yoda toys have popped up, and we're buying them all, obviously.
And now, we can give our kitchen some Star Wars flare with this 7-quart Baby Yoda slow cooker, which serves up to six people, has a removable stoneware insert, and is super easy to use. Depending on what you're cooking, you have "low," "high," and "warm" settings that make it easy to perfectly make the most delicious meal.
If you already have a slow cooker, consider this as the perfect gift for the Star Wars fan in your life who could benefit from some help in the kitchen.
This article was originally published on