The First Baby Yoda Plush Toy Is Now Available For Pre-Order
by Madison Vanderberg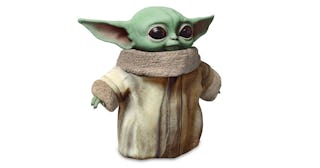 Walmart
Baby Yoda toys and t-shirts are here, but here's the catch
When Disney Plus came into our lives last month, we thought it was just gonna be a fun streaming site to entertain the whole family. We didn't know that it would introduce us to our nation's new favorite character: Baby Yoda. The colloquial name, "Baby Yoda," refers to a character in the new Star Wars spin-off series on Disney Plus The Mandalorian. Baby Yoda is not actually a younger version of the Yoda we know and love, but a baby who belongs to the same species that Yoda does. In the show, Baby Yoda is actually referred to as The Child, but it's more fun to say Baby Yoda. Anyways, Baby Yoda, erm, The Child, is the cutest thing we've ever seen in our entire lives and now you can fill your home with your own Baby Yoda toys.
RELATED: 10 Best Disney Toys To Keep Kids Living Their Most Magical Lives Right At Home
You can get an 11-inch plush "Baby Yoda" Mattel toy on ShopDisney.com for the low low price of $24.99. The head is vinyl and the body is squishy soft plush and the toy arrives "in special packaging resembling the crib as seen in the show." However, there's a catch — and it's a big catch. This Baby Yoda plush toy is only available for pre-sale and won't ship until April 1, 2020. If you can wait that long, this Baby Yoda could be yours by springtime.
Despite the fact that the toy is only available for pre-order at the moment, there are still a number of comments on the site ranging from, "He is baby and we love and protect him," to people complaining about the vinyl head and how they can't snuggle with plastic. Le sigh. You can also pre-order the little guy on Walmart.com.
There's also a ten-inch Funko Pop Baby Yoda for sale for $29.99 and a miniature Funko for only $12.99. Both are extremely cute, but the mini Funko doesn't ship until May 2020 and the larger one will arrive sometime in June.
If you want something in time for Christmas, the Disney store has all sorts of Baby Yoda t-shirts and other merch that will arrive in time for the holidays. For example:
"The Child" t-shirt in dark gray ($24.95)
"The Child" iPhone case ($34.95)
"The Child" tank top in gold ($24.95)
There's more Baby Yoda and Mandalorian gear in the Disney shop, and with free shipping on orders over $75, that's basically the cost to outfit the entire family in Baby Yoda shirts. Just order by December 10 if you want it to arrive by Christmas.
Standby while we purchase a Baby Yoda toy in every size and brace ourselves for those springtime shipments. Very cute, he is.
This article was originally published on