Mattel's Newest 'Career Barbie' Is A Judge
by Sarah Bregel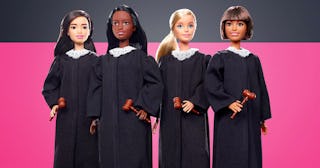 Barbie/Twitter
Mattel announces on Twitter that the latest Barbie to hit shelves is a judge
We all know that Barbie can be just about anything she wants from a scuba instructor to a doctor. Now, she's taking on another profession and it's one she has to wear a robe for. No, Barbie isn't having another spa day (although we know she can do that, too). This time, she's a judge.
Mattel just unveiled the Barbie Judge Doll, its 2019 Barbie Career of the Year doll. "With over 200 careers since 1959, this year Barbie takes the stand as a Judge!" the company wrote on Twitter. "The Barbie Judge Doll encourages girls to learn more about making decisions to change the world for the better."
It's a great move and the reason why the company landed on "judge" makes it even better. Lisa McKnight, the senior vice president and global brand general manager of Barbie told USA TODAY that Mattel made the decision after learning that only 33% of sitting US state judges are women. It's a bit of a shocking statistic but hopefully the new doll will encourage girls who have their sights set on holding the gavel to keep that dream fired up.
Judge Barbie definitely looks the part, too. She comes with a customary black robe and a lace collar and is, of course, available in a variety of skin tones and hair colors. She also comes with a gavel and round block "that kids can use to help her call the room to order and make important decisions," the company wrote on their website.
Judge Barbie is available there, as well as at Walmart, Target, and on Amazon for $12.99.
Barbie is really changing with the times. The company also recently partnered with GoFundMe in an effort to help girls "close the dream gap." In a statement about the project on their site, they describe the importance of such initiatives. "Research shows that starting at age 5, many girls develop self-limiting beliefs and begin to think they're not as smart and capable as boys. They stop believing their gender can do or be anything… Barbie launched the Dream Gap Project in 2018. This ongoing global initiative gives girls the resources and support they need to continue believing in themselves." The profits will be donated to nonprofits that support female empowerment: She's The First, She Should Run and Step Up.
The creation of this new Barbie feels like a small victory for girls everywhere. But it totally feels like part of a bigger trend, which makes it extra awesome. This Barbie is part of a line of gender inclusive dolls called "Creatable World." The line allows kids to customize their dolls however they want, even if it doesn't conform to gender norms.
Although we only recommend picks we really love, we may earn a commission on purchases made through links from our site.
This article was originally published on