These 20 Cheap Beauty Products On Amazon Will Up Your Game For Less $$
by Rachael Lubarsky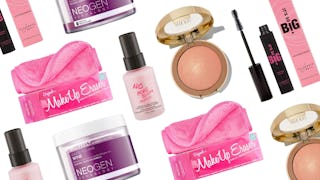 Although a lot of the major players in the beauty industry want you to believe you have to shell out big bucks to look good, we're spilling their secret: you don't have to pay an arm and a leg to keep all your body parts looking and feeling amazing. If your beauty budget is more Covergirl than Clé de Peau, check out our list of affordable and effective beauty products that will keep more money in your wallet and less wrinkles on your face.
Once you try tubing mascara, you'll never go back. Instead of regular mascara that paints a tint onto your lashes, this uses polymer tubes that wrap around each lash 360 degrees. That means no smearing, smudging, or irritation, and at the end of the day, it washes off gently with water. Says one ex-racoon-eyed convert,
"An allergy nurse at my job told me about this product because I have allergic reactions with most other mascaras… I usually have to wash my eyes a few times to get the mascara off of my lashes and most of the time I still get out of the shower with raccoon eyes. HOWEVER, with this product, I wet my face with warm water and rubbed my lashes ONCE with soap and water and BOOM!"
Baked on Italian terracotta tiles, this blush is richly pigmented and highly buildable, and comes in a plethora of colors to complement any skin tone. Plus, did you notice that price?? According to one glowy reviewer, it's also a perfect dupe for a best-selling iconic blush,
"I've been using it for years. I reach for it before my NARS. In fact Luminoso is a close dupe for NARS Orgasm but better! It's a gorgeous pinky peach. Looks great in photos. You get color and a touch of glow in one sweep! I don't bother searching for other blushes as this stuff is that good!"
36% OFF (was $9.96)
Slathering your skin with super-powered antioxidant Vitamin C on a regular basis can help repair damaged skin, improve brightness and clarity, and up your collagen production. It can also help with acne. Says one clearer-skinned customer,
"This product saved my skin. I've been struggling with acne for YEARS. I've tried all different types of moisturizers and cleansers. Nothing worked. However I bought this serum on a whim. Omgggg. Guys. Literally my face stopped flaring within 3 days. Blemishes have faded DRASTICALLY and I have no active breakouts. This hasn't happened in years. I truly and honestly think it is due to this product. If you are hesitant, don't be –BUY IT!"
Hey oily gals — shpritz this light-weight setting spray over dried make-up for a matte, shine-free look that lasts all day. Says one super fan,
"INCREDIBLE!!!!! I swear this has changed my life. It makes my makeup last all day….literally 12+ hours. It has even kept my makeup on and smudge proof through a 2 hour nap!!! I'm so incredibly impressed. I have very oily skin and the "dewy" finish has not made me look or feel greasy. I seriously love this stuff sooo much!!!!"
19% OFF (was $8.50)
Grab these best-selling facial sprays from Mario Badescu, that complement each other and your skin. The rosewater spray with aloe and herbs refreshes and hydrates, while the aloe, cucumber, and green tea spray invigorates dull, dry skin. Says one reviewer,
"I LOVE this stuff! I have combo skin, very dry unless I moisturize but also sensitive to becoming oily. I use the rosewater spray after moisturizing as a primer and after I put makeup on as a setting spray. I bring the cucumber spray with me every I go for a quick bit of moisture and as a refresher throughout the day! Absolutely no irritation, I feel like it's brightened up my skin tone since I've been using it. I will be buying more soon!"
This cult favorite moisturizer has been around since 1926 so obviously it's working. It's a heavy-duty plant-rich cream product with multiple uses – dab it on cheeks or lips to moisturize, use it as a face mask, massage into hands to smooth dry cuticles, or even tap lightly over make-up to highlight your brow bones. Says one dewy reviewer,
"Favorite cream. I am 40, have extremely dry skin and still break out. I have tried every cream possible including prescribed by dermatologist and still had flaky skin and breakouts. I am so glad a trusted the salesperson at a health food store to try this. ON MY FACE :-). Feels like putting on a very thick paste on your face– but after exfoliating put on a generous amount so it glides on your skin. It will be super thick and greasy. Then go to sleep. You will not recognize your face in the am. My is velvety smooth and dewy."
Whether you're a hair color virgin, or you've dyed your head every color of the rainbow, this magic healing elixir is worth its weight in gold. Once only found in your stylist's arsenal, you can now use it in your own home to turn dry, brittle, damaged hair into soft, shiny, and more resilient hair in just one use. Fo. Real. Just apply for at least 10 minutes once or twice a week. Don't believe us? Says one smooth-haired customer,
"MAGIC!!!! I swear this stuff is made from Unicorns. I was doubtful and all I have to say is WOWZA! After some really harsh processing, my hair more closely resembled hay than it did actual hair and as the weeks went on, the breakage started getting worse. I tried this at my last feeble attempt to salvage my locks after a friend recommended it and I am BLOWN AWAY by the results! "
Is it possible to clean your makeup off without any soap? We wouldn't have thought so until we gave this dual-sided microfiber soft cloth a try. It. Works. Just soak in warm water and use circular motions to wipe off mascara, eyeshadow, and that weird foundation blob on your left cheek that no one told you about all day (#thankskaren). Says one fresh-faced convert,
"I was so ready to write a review about what a piece of crap this is; boy was I wrong! This actually works! I usually use the Neutrogena cleansing cloths which work okay but this makeup eraser blows them out of the water. I can't believe how great it is."
Despite the scary sounding name, hyaluronic acid is definitely an ingredient you want to get up close and personal with because it's a magnet for moisture and helps your skin cells plump up to give you the hydrated, healthy look we're all going for. It's best when layered underneath your other moisturizers or added drop by drop. We've seen products four times as expensive as this one, so it's really a steal. Says one plumped purchaser,
"LOVE. For very dry and/or mature skin, you can't beat this product. VISIBLE results. You won't catch me without this product ever."
What's so great about this dry shampoo that it won Allure's coveted Best of Beauty award on four separate occasions? Made with gentle oatmilk, it's sulfate, paraben and sodium chloride-free so it's safe for color and chemically treated hair and your sensitive scalp. Plus, it has a beige tint blends easily into darker shades of hair. Goodbye white powdery crap! Says one clean-haired convert,
"AMAZING. I have tried many dry shampoos (i.e. Bumble & Bumble, Herbal Essence, Blow Dry Bar and many more) that do not compare to this. When I use it, my hair feels as if I have just washed it. This dry shampoo does not make it feel gross and dirty like the other ones I have used in the past. I HIGHLY RECOMMEND this product. Take it from someone who tried lots of brands and with oily hair."
Don't you love when you're trying to smooth your makeup over your face and it comes out looking like a lumpy, bumpy mess? Us too. (#NOT) While the idea of using a primer to even out your skin and create the perfect foundation for your, well…foundation is great, it's hard to find one that doesn't feel like you're spackling your face. This one is legit with a lightweight formula that offers seamless coverage. Says one smooth operator,
"ABSOLUTELY AMAZING! You get so much product for an extremely reasonable price. The primer is so smooth and silky, it adds a really nice rosy tint to my skin and really brightens it up if it's looking a little dull. It helps to keep my makeup looking great all day."
This toner is alcohol-free, paraben-free, propylene glycol-free, and fragrance-free, which means it doesn't contain any of the crap that's bad for your skin. Made of unscented witch hazel, its retro wrapper and old-school bottle makes us feel like we're on an episode of Downton Abbey. Plus, it has a plethora of uses, from natural baby wipes to DIY air fresheners. Says one recent mama,
"I bought this for postpartum healing. I used this along with aloe to spread on sanitary pads and froze them. The pads containing the witch hazel were extremely soothing after birth."
These eye masks might LOOK luxurious, but they're priced perfectly for plebes like us. Made with active 24 karat gold, they include plant collagen, hyaluronic acid, along with grape seed and rose seed extract — both antioxidants. They're squishy and sticky enough to stay on, even as you wander around your kitchen in your ermine robe. Says one bright-eyed buyer,
"I've had chronic insomnia for over 7 years and my eyes show it with the ultra dark rings. This product worked wonders. I'm sure with a few more boxes and applying more patches the dark circles will be completely gone."
We really wish we were coordinated enough to create the perfect eyeliner wing, but alas, all we can manage is a thick sharpie-looking smudge. But we don't need to worry about that any more, Mama, because this magical eyeliner stamp produces "perfect wings every time." Available in three different sizes, or you can grab them all in a multi-pack. Says one enthusiastically cat-eyed customer,
"I've tried the taping method, tried normal liquid liner, plastic winged stamping devices, stencils, all of it! So when I saw this I thought, meh, why not give it a shot… I HAVE NEVER IN MY LIFE BEEN ABLE TO DO A CAT EYE IN UNDER 10 MINUTES…LET ALONE THE 2 MINUTES THIS TOOK TO DO! There was no sloppy streaks that I had to touch up or anything you would expect. Just a clean crisp line."
These clear patches are made with natural ingredients to shrink pimples, soothe skin, and eliminate redness — sometimes overnight! That qualifies them as miracle-workers in our book. And 2K+ 5-star reviewers agree. Says one clear-faced convert,
"I want to begin by saying I purchased these on my own with no discount compensation or incentive. These have been life changing for me. As opposed to other brands, this has been the only one that works in protecting and getting rid of pimples, and is absolutely the only one that is thin and transparent enough to wear in public or under makeup."
These soft exfoliating pads are steeped in wine extract (no, you cannot drink it) can be used after cleansing to help remove dead skin cells, excess sebum, skin impurities, while purifying the skin. It's like a very gentle daily chemical peel on a cotton pad, with one bumpy side to exfoliate and one smooth side to, well, smooth. Says one reviewer,
"I LOVE this product so much, it's on "holy grail" status in my evening skincare routine. I have combination skin– oily T-zone and dry cheeks– that has hyper-pigmentation, large pores around the nose / cheek / temple area and acne scars from picking at my face. Also, my skin was looking very dull and congested from winter. So after some careful online research, I decided to try this product because it combines both a manual and chemical exfoliation process using both resveratrol and lactic acid. I noticed visible results– softer and smoother skin– after the first use and became hooked."
What sorcery is this? This Japanese cult favorite does what we would have considered impossible: it exfoliates without harsh chemicals, using only activated hydrogen water. Does it work? Almost 2K reviewers on Amazon think so. Says one believer,
"I wish I could give more than 5 stars!! I can't even tell you how this product has saved me!! I have suffered from psoriasis my whole life. Unfortunately the worst of it manifests on my face and head. And usually I have to scrub off the plaques and apply ointment. So I though I'd try this, can't be any worse right? It's amazing!!!!!! My face is completely clear after 5 days!!! No scrubbing, no ointment, no hiding in the house because I'm embarrassed to go out in public! I really can't say enough good things about this!!!"
This silky smooth skincare oil helps improves the appearance of uneven skin tone, dry and aging. Your mom probably used this, and with good reason. It's the #1 selling scar and stretch mark product in 18 countries and winner of 224 skincare awards. Mic drop. Says one fan,
"I used this for 3 days and by the 4th day, I was floored. I noticed my skin had a "tighter" look and even younger. I wasn't expecting results like that. I also noticed that 2 freckles that have become blotches with age, are almost completely faded. That was definitely unexpected. I am floored by this product and I am a huge skeptic on beauty care items being miracle makeovers. This is pretty darn close!"
Yes Karen, this IS formulated with 96% snail secretion filtrate. And as gross as that actually might sound, we're going to slather the slimy stuff all over ourselves because snail mucin has been shown to help repair the skin after breakouts and soothes irritation by replenishing moisture. Use it after your toner or mixed into your moisturizer. Says one snail super fan,
"I cannot believe my eyes! I received this 3 weeks ago and have used it 3-5 days per week. The improvement I have seen in my hyperpigmentation I could only achieve with visits to my dermatologist to get IPL laser treatments for $200 each. You can see in the photo the areas where hyperpigmentation is now gone and where I am shedding. I have never been this impressed with a skincare product!!!"
These cute, candy-colored washcloths will scrub all the nasty skin flakes right off your skin after you've soaked in warm bath for a bit. They are not recommended for facial scrubbing (a bit too rough), but every other grimey body part is far game. Guys even dig them like this dude,
"I've always been quite a clean dude. I take showers every day, I use soap, the whole 9 yards. That is, until I encountered Korean Italy towels. Now I'm a super clean dude. I took a hot shower for about 15 minutes and went to town scrubbing all around while my skin peeled away like I was some sort of snake being rebirthed. And like a snake being rebirthed, I came out with a new shell of stupidly soft skin that made me feel the most clean that I ever have."
Keeping our feet acceptable for public viewing is a chore. It's either weekly pedicures that cost too much or sloughing off dead skin with some sand-papered foot file. Enter this foot cream from stage right. It's got glycerin to draw in moisture, allantoin to soften and condition skin, and paraffin to create a barrier that helps maintain that moisture. Says one soft-heeled tip-toer,
"This stuff is amazing. Seriously. My feet have been cracked non-stop for probably the last 10 years. I've tried literally everything- Pedicures, Ped-egg, Gold Bond foot cream, lotion every night with socks on, pumice stones, that ridiculous mouthwash/shaving cream home "remedy"…I was just about to buy a foot chemical peel when I saw this and figured I'd give it a shot before spending $25 and having 2 weeks of peely feet. After 4+ weeks my feet have never been better. Overall, I couldn't recommend this more. I know I sound like an infomercial, but I can honestly say this is worth every penny."
Although we only recommend picks we really love, we may earn a commission on purchases made through links from our site.
This article was originally published on