The Best Bed Rails For Seniors That Keep Them Safe And Secure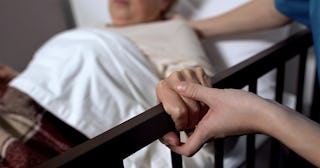 Getty Images
Bed rails aren't just for toddlers and babies — in fact, bed rails for seniors exist for a very good reason. Bed rails can help those with mobility issues, especially if they live alone. This kind of support system is a good idea if you want a little more security when it comes to an elderly parent's health (or your own!). If you live far away from your aging parents, it might be good to inspire them to install more safety features to make it easier for them to live their lives, independently. (And while you're here, if you're looking for the best phones for seniors, we've got some great suggestions, too!)
RELATED: How Much Does Assisted Living Cost? Get The Bottom Line
Sarah Stromsdorfer is an Occupational Therapist working in adult inpatient rehabilitation. She often recommends bedrails for older adults that are having trouble getting out of bed due to decreased strength from illness or injury.
"The biggest things to consider are the sturdiness and quality, since the person may need to use a considerable amount of force to get out of their standard bed and may need to use the bedrail for years," Stromsdorfer says.
Stromsdorfer recommends an adjustable bed rail because bed sizes vary and the person may need to switch beds at some point.
"I also look to make sure the bedrail is secure enough (with enough surface area tucked under the mattress) so the rail doesn't slide out when the person is using it," she adds. "Consider adding padding if the user could be at risk for rolling out of the bed, but this is not a must-have if the person has appropriate safety awareness."
Bed rails may seem a little intimidating, but like every change, they'll get used to them in time. In fact, your parents might not realize how they managed before adding bed rails to the mix.
There are plenty of bed rails that don't necessarily scream out "I'm aging and incapable." Many seniors may feel tempted to nix any idea you have regarding installation, since it may make them feel old. Even a small rail that they can use to pull up out of bed may be an improvement to the situation you have now. Bed rails are also a lot cooler than they used to be — seriously. They're more stylish than you think! Some models even include LED lights for extra security.
RELATED: A Caregiver's Guide On How To Treat A Bed Sore At Home
Here are a few good bed rails for the senior you love.
Best Bed Rails For Seniors
Adjustable Bed Rails For Seniors
This article was originally published on