Get The BellaNails Gel Manicure Lamp at 10% Off Today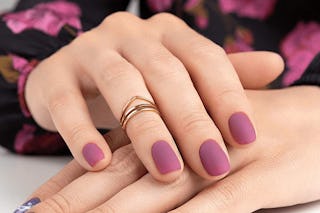 StackCommerce
Dry shampoo, snacks in your purse, and a super durable gel manicure are all a part of the busy mom starter-pack. Anything that can fuel you or contribute to your overall hygiene quickly is a keeper. Gel manicures are particularly special because they're durable enough to limit your visits to the nail salon, which can also save you money. You can even take the extra step and save yourself a trip to the salon with an LED nail lamp at home, like this popular one from BellaNails.
More than 300 people have reviewed the BellaNails LED Nail Lamp on Amazon, landing it a 4.5-star rating for features like fast-drying high-gloss finish, time presets, and safer bulbs. The BellaNails LED Nail Lamp uses efficient UV LED bulbs, rather than the damaging UV lights you may have been baking under at the nail salon previously.
Safety considerations continue for when your mom-brain kicks in and you forget to shut the lamp off. When you pop up with your dry nails to change a diaper or build LEGOs (both of which are unheard of with traditional nail polish dry times), nobody in the house will be at risk if you forget to turn the BellaNails lamp off, thanks to its automated shut-off feature.
Tiffany S. reviewed on Amazon, "I love this lamp! It had the highest wattage for the best price. It has a magnetic base so it's removable for pedicures too. It cures quickly and it has a timer on the top with an automatic shutoff when you pull your hand out. It's a really nice lamp for the price."
When you are able to get a professional-looking manicure at home, the options are endless. Paint on a quick hot pink for a brunch date or swap the bright colors for a sultry deep red on date night with the best companion gel polish brands.
Get the BellaNails LED Nail Lamp for Gel and Shellac Nail Polishes at a 10% discount today while the highly rated lamp is on sale for $26.99.
Prices subject to change.
This article was originally published on